Are Your Vendors (and Their Vendors) Safe To Do Business With?
Your vendors often handle your most sensitive data. This presents security and privacy challenges as third-party risk teams like yours struggle to vet and manage the vendors you rely on most. OneTrust Vendorpedia adds value to your vendor inventory, enabling faster assessment with risk mitigation workflows, ongoing monitoring, and powerful reporting to manage the entire vendor engagement lifecycle, from onboarding to offboarding.
Centralize Vendors & Work Seamlessly Across Teams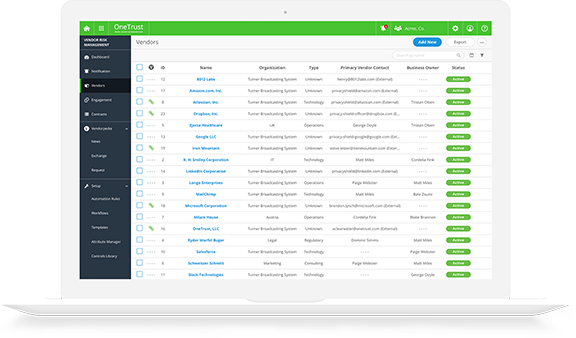 Manage Any Type of Vendor
Automate the vendor engagement lifecycle, from onboarding to offboarding, with free vendor chasing services and automated workflows to manage IT and non-IT vendors, direct suppliers, services and legal organizations, franchisees and retailers, as well as agents and contractors.
Leverage Pre-Populated Research
Access aggregated vendor information without having to scour the web. OneTrust Vendorpedia does the research for you, pre-populating security and privacy data on thousands of global vendors, each with information at the service- and product-level.
Assess Risk Based on Use Cases and Standards Relevant to Your Business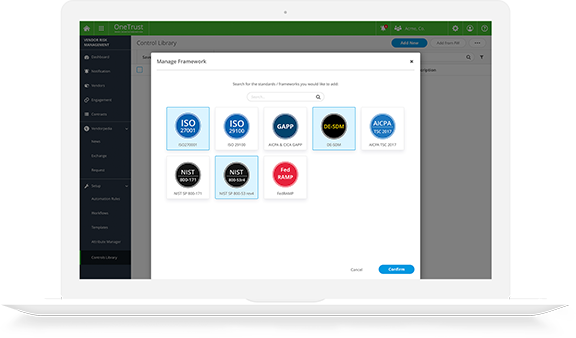 Use or Tailor Any Standard
Assess vendors with greater flexibility to fit your use case, with support for every industry standard, framework, and law, including CSA CAIQ, SIG, SIG Lite, HITRUST, PCI DSS, NIST, ISO 27001, GDPR, NYDFS, CCPA, and many more.
Assess Risks with Greater Granularity
Gain insight into the security and privacy risks of third parties at a granular level, including the vendor risks as a whole, as well risks specific to engagements, products or services, contracts, processes or IT systems.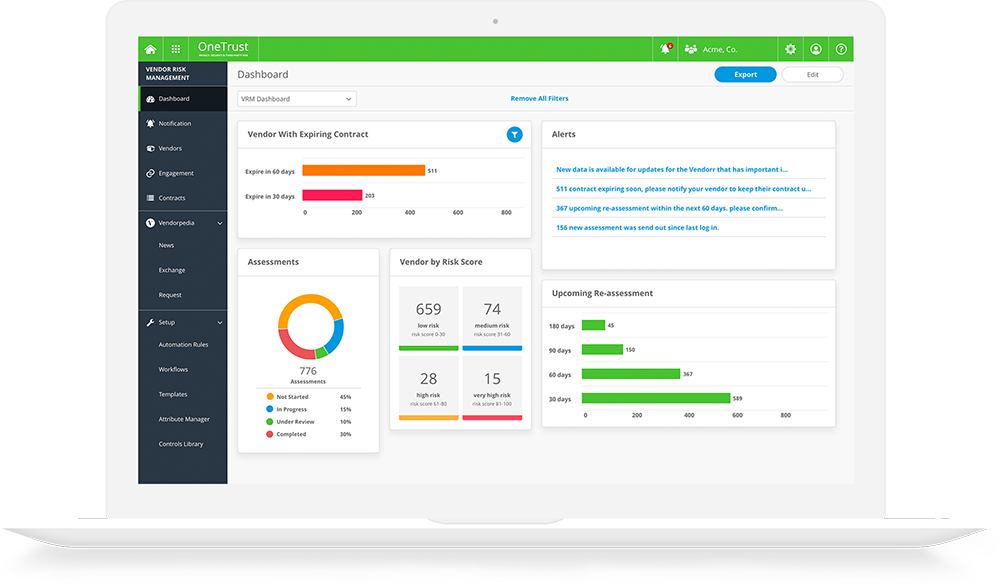 Get Started with the OneTrust Vendorpedia Platform Today
OneTrust Vendorpedia is simple to deploy, easy to use, and works seamlessly with the entire OneTrust platform. Request a demo to see how you can streamline your third-party risk program.
Monitor Threats and Mitigate Risk from Vendors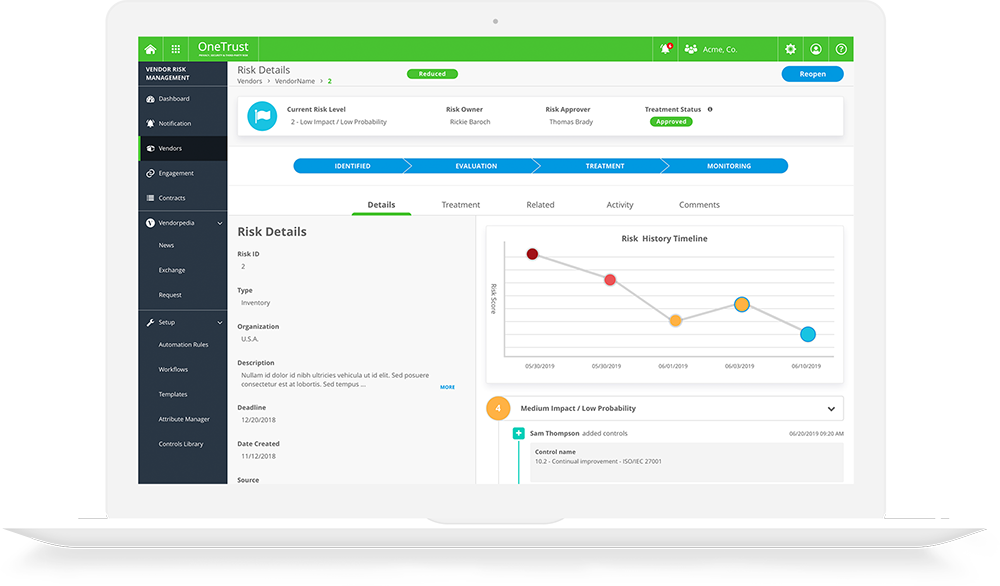 Monitor Threats Over Time
Maintain ongoing oversight and compliance for vendor risks. Create automated rules to trigger reassessment, get notified when vendor breaches or enforcement actions occur, as well as receive alerts as relevant laws and standards change.
Powered by OneTrust DataGuidance
Backed by the world's largest and most up-to-date database of security and privacy laws, frameworks, and standards, which directly power and enrich OneTrust Vendorpedia. Research is generated by 40 in-house security and privacy experts and a network of 500 lawyers across 300 jurisdictions.
Share Valuable Data Across Systems with Turnkey Integrations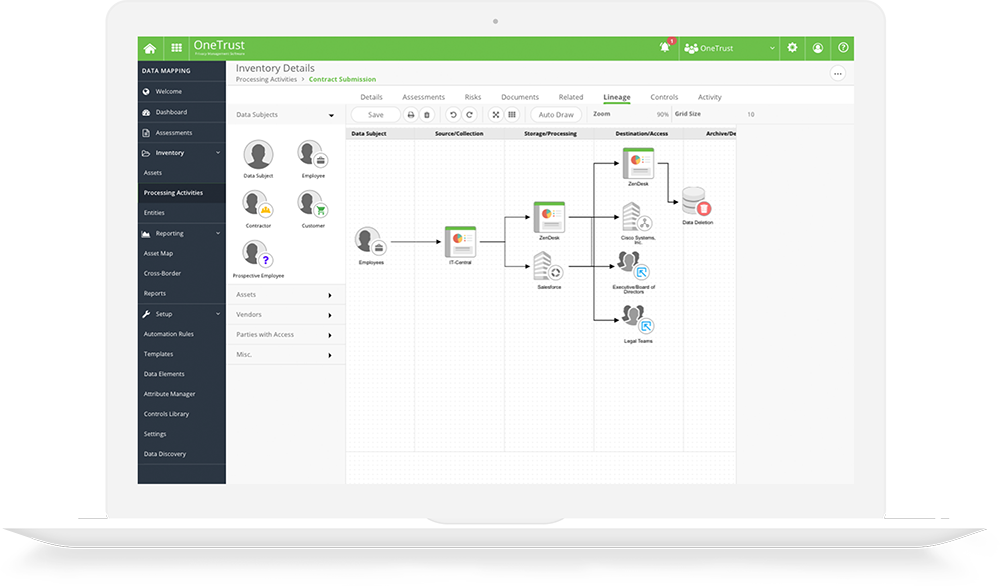 Integrate with Turnkey Plugins
Seamlessly connect with existing systems, including procurement, contract management, CMDBs, ITSMs, GRCs, and Security Rating Services. The OneTrust Integration Marketplace comes with more 100+ out-of-the-box plugins for the tools you use most.
Leverage the Entire OneTrust Platform
Link vendors to the IT systems and the business processes they support with Data Inventory & Mapping. Streamline data access and deletion requests with Consumer & Data Subject Rights Management. Pre-populate PIAs and DPIAs for faster Assessment Automation. And lastly, leverage the vendor and contract context you need for more intelligent Incident & Breach Response.
Why OneTrust Vendorpedia?
Unlimited Vendors
Assess all your vendors as many times as you need to without any extra costs
Up-to-Date Exchange
Access research on thousands of global vendors, both big and small, updated daily
Free Vendor Chasing Service
Offload work to the OneTrust team to rapidly complete vendor risk assessments
Contextual Metrics
Add business context to key risks, controls & performance indicators (KRIs, KCIs, KPIs)
Powerful Reporting
Create audit-ready reports with rollup risk views and interactive dashboards
Integrated with OneTrust
Keep your data map updated, fulfill data requests, and respond to incidents faster