April 15, 2022
Create Your Account to Respond to Questionnaires Faster
Join the OneTrust Exchange community to streamline and bring efficiency to your questionnaire response timelines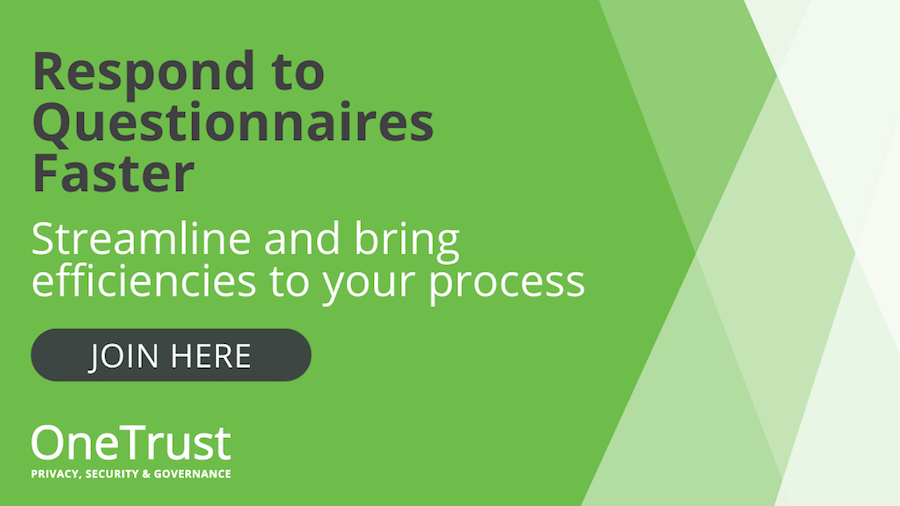 Organizations like yours are constantly tasked with responding to security, privacy, and compliance questionnaires, which are usually answered in a manual, copy/paste fashion. These questionnaires, many of which are unique in nature, require time and resources to complete, especially when the volume and frequency of requests continues to grow.
We've set out to help solve this challenge.
By creating an account with OneTrust, any questionnaire you receive from a OneTrust customer will show up in your account. This has a number of benefits for your organization, including giving you the ability to:
Save your previously completed questionnaires in one place
Maintain an answer library to ensure your team is always using the most up to date answers
Use answers stored within your answer library to autocomplete any net new questionnaires
Delegate questions to the right stakeholders to collaborate on responses
Securely share documentation with inquiring parties and control access, revoking viewing rights when necessary
View all assessment requests you receive from OneTrust customers in a single dashboard
Build a free Trust Profile, consisting of links and documents, to share with inquiring customers
Publish your Trust Profile to our Third-Party Risk Exchange, visible to all OneTrust customers
Learn more and sign up for your free account here.