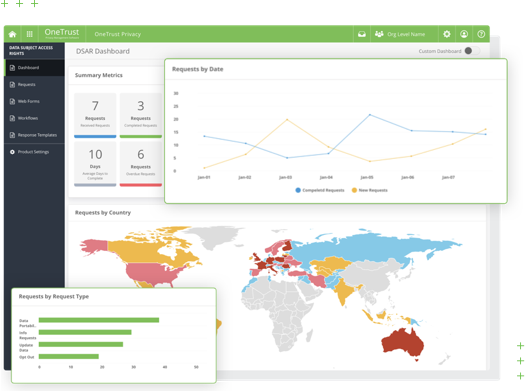 OneTrust Privacy Rights Management (DSAR)
Responding to privacy rights requests is a time-consuming process full of manual tasks, making it a challenge to respond to regulatory requirements and the need to detect exactly where personal data exists, in order to access, port, redact, delete it, or comply with CCPA opt-outs. As data models become more complex and individuals continue to exercise their data privacy rights, fulfilling these tasks manually is no longer a scalable solution for any organization.
Automate the Privacy Rights Request Lifecycle from Intake to Fulfillment
The Privacy Rights Management solution enables organizations to automate task delegation throughout the fulfillment process, validate identities, streamline the update, collection, redaction, and deletion of data, offer a secure two-way communication portal, and maintain adequate records of communication to demonstrate compliance. By leveraging intake templates and automated workflows, businesses are able to dynamically triage requests, ensure fulfillment accuracy, and improve response times with the ability to scale their program when an influx of requests is received.
Fully Automate
Request Intake
Simplify the Identity
Verification Process
Leverage DataDiscovery
to Fulfill Requests
Redact Sensitive
Personal Data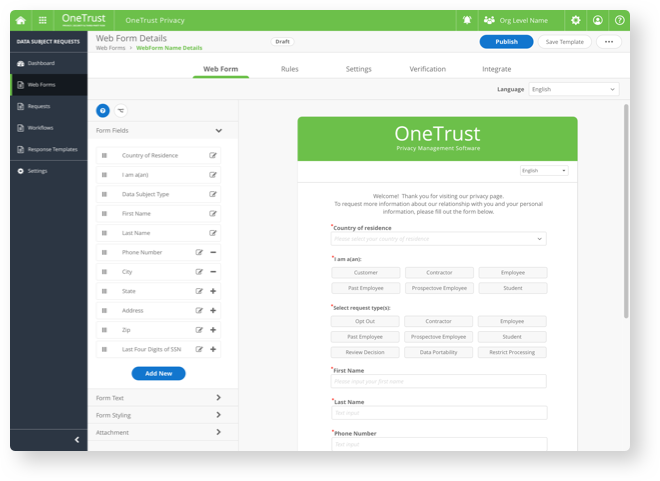 Utilize Dynamic Web Forms
Streamline the Intake Process by Utilizing Templates and Customizable Intake Web Forms
Leverage research-backed CCPA, GDPR, and LGPD request intake templates to validate data subject's location
Customize or create unique request intake forms and embed directly on websites or other online properties
Enable consumer and data subjects to select their language preference from over 100 languages
Utilize information collected on dynamic intake forms to route request and kick-off fulfillment process
Track requests and limit requests to two per 12-month period in accordance with the CCPA
Auto-assign tasks to business owners to streamline fulfillment and promote accountability across the organization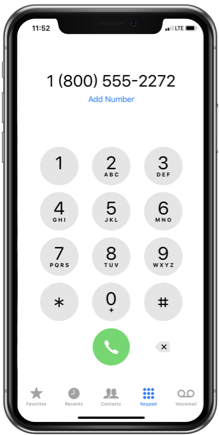 Meet CCPA Toll-Free Compliance
Automate & Comply with the CCPA's Toll-Free Requirements
Utilize a fully customizable greeting in-line with company messaging and regulatory requirements
Build automated back-end workflows to efficiently automate, process, and respond to requests
Integrate fully with OneTrust Privacy Rights Management, Opt-Out of Sale, and Robotic Automation for DSAR solutions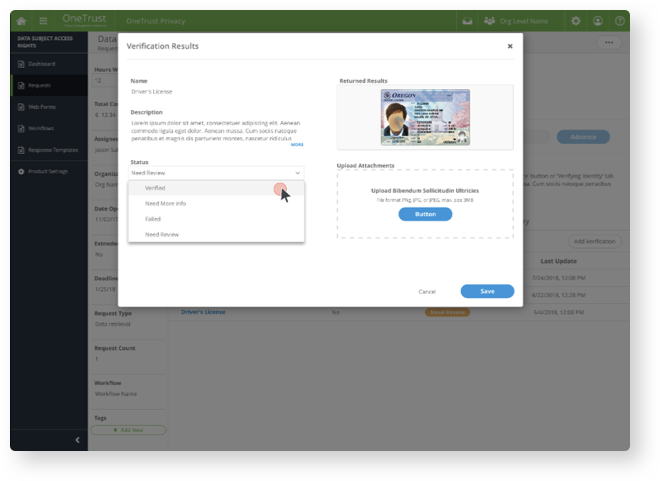 Validate Identity & Triage Requests
Simplify the Identity Verification Process to Validate Requests
Enable individuals to attach evidence when submitting a request to verify their identity and proof of residency
Leverage various identity validation approaches, including email, phone, login portals or security questions
Verify identity to auto-detect duplicate and repetitive requests and auto-expire unverified requests
Integrate with customer databases and identity validation technologies, for example, Experian and LexisNexis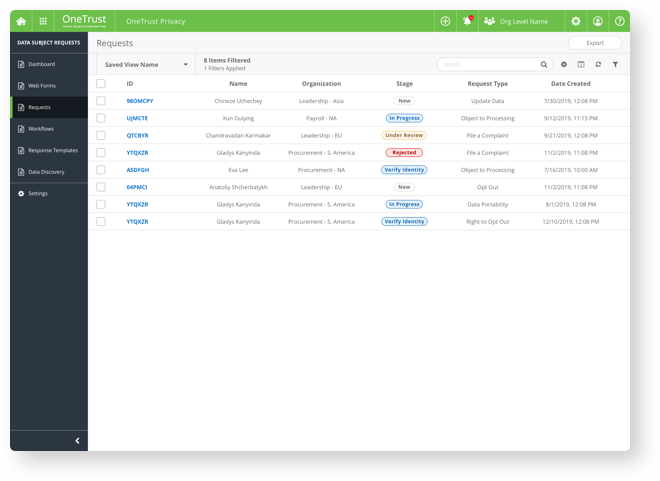 Automate Request Intake & Fulfillment with Multiple Integration Approaches
Leverage Targeted Data Discovery™ Technology to Fully Automate the Intake and Fulfillment of Privacy Rights Requests
Automate each manual step used to process privacy rights and opt-out of sale requests with the right exception rules to flag outliers 
Support all data classifications including structured, unstructured, on-premise, cloud, and email 
Discover and sync IT system inventories from CRMs, Marketing Automation, CASBs, CMDBs, and Identity as a Service tools
Leverage multiple integration approaches including pre-built plugins, easy integration with custom apps and homegrown systems, or abstraction using application gateways
Create manual review and redaction steps that can be inserted prior to responding directly to a data access, portability, or deletion request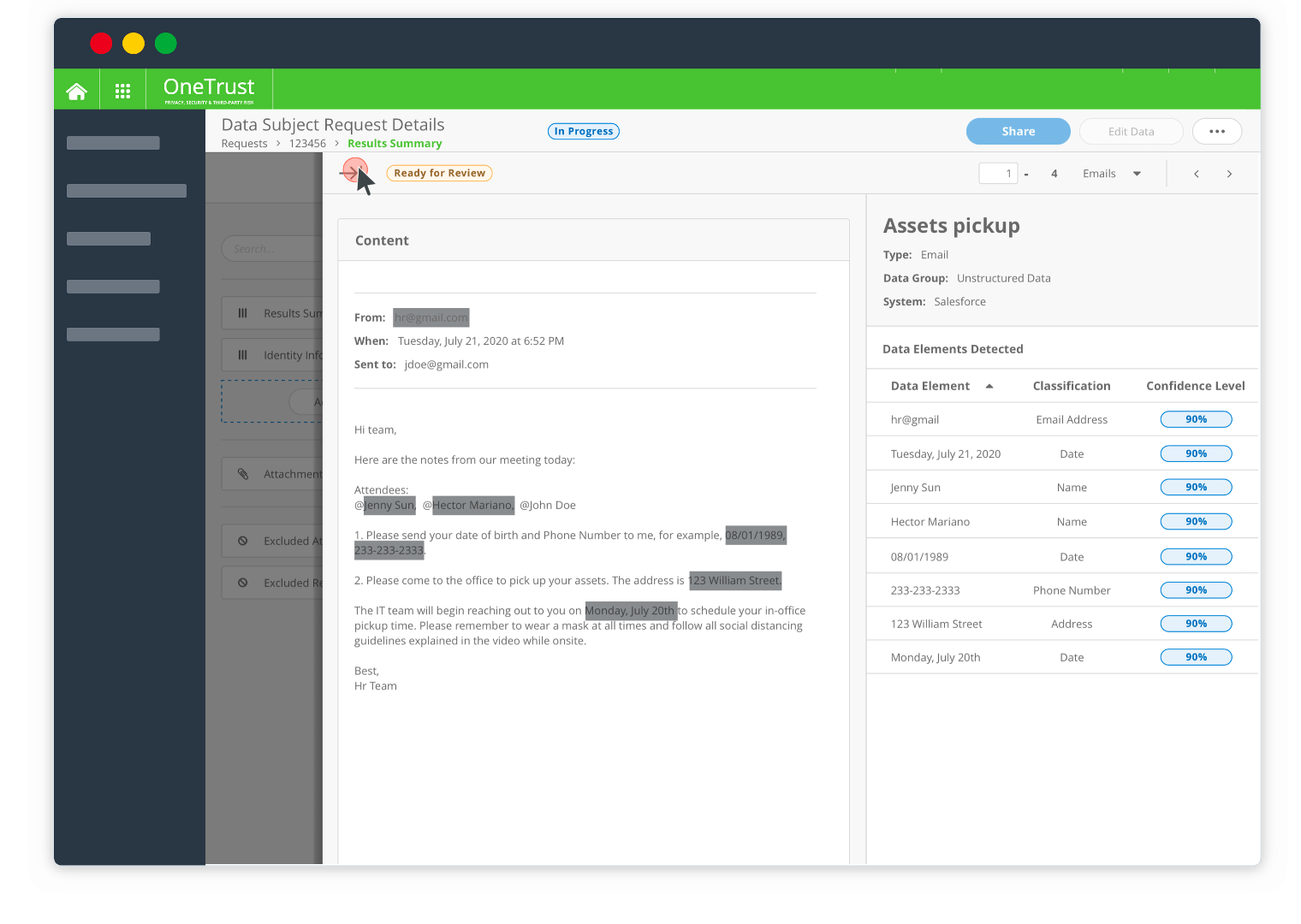 Leverage Athena AI to Automatically Detect Data That Needs to be Redacted
Automate the Redaction of Emails and Files in Response to Privacy Rights Requests
Automatically discover or manually upload emails and files to the request
Scan files with Athena AI and NLP algorithms to automatically classify and redact necessary data
Review redacted documents with confidence scores and make any necessary adjustments
Securely share the results via an encrypted messaging portal to finish request fulfillment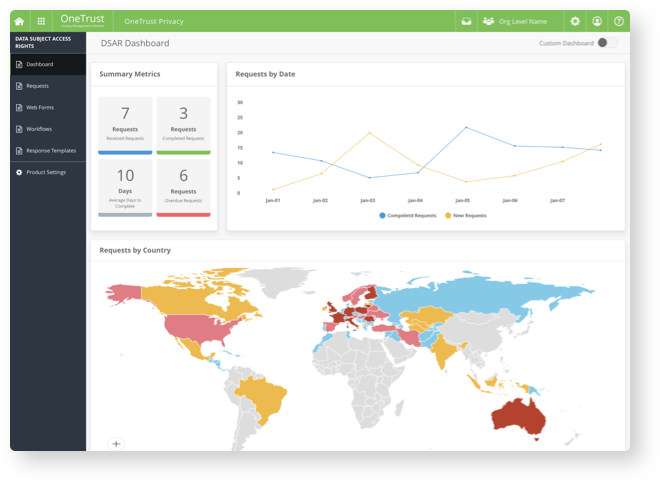 Generate Reports & Maintain Records for Compliance
Maintain Records of Communication and Generate Dashboards for Program Benchmarking
Communicate with individuals via a secure messaging portal
View analytics dashboards to identify areas of improvement including cost-per-request calculations
Integrate with existing ticketing and ITSM tools like ServiceNow or BMC Remedy to identify and track requests sent to IT teams
View, edit, and export executive dashboards and reports for internal and external review and benchmarking
Ready to Get Started? Try OneTrust Free for 14 Days
See how OneTrust can operationalize your privacy program
Request Demo