Compliance Solutions for Growing Companies
Powerful and Intuitive Tools to Launch Your Compliance Program
Simple to Use. Easy to Deploy. Start Small or Do It All with OneTrust Compliance Solutions.
User-Friendly Software for Privacy, Security, and Marketing Compliance
Request Demo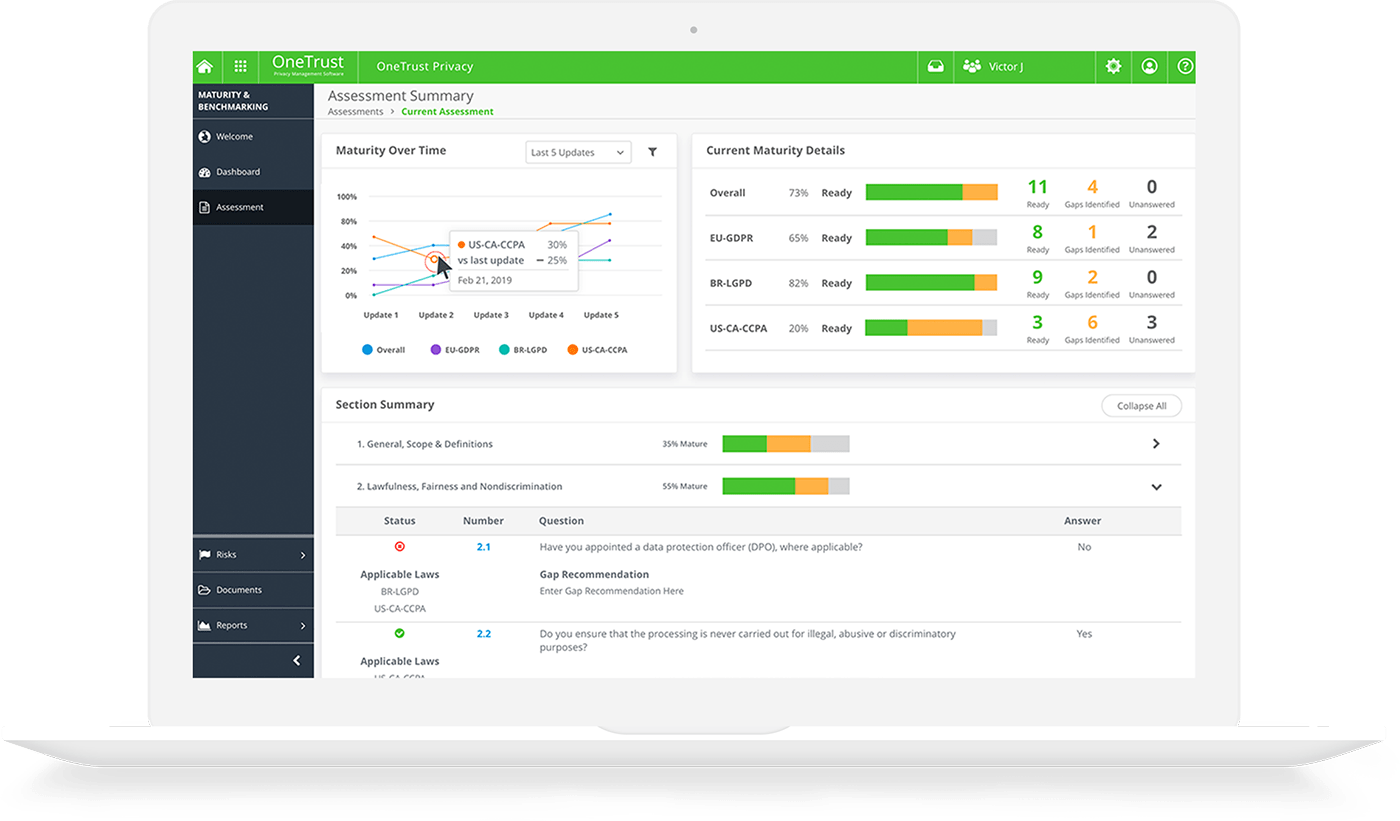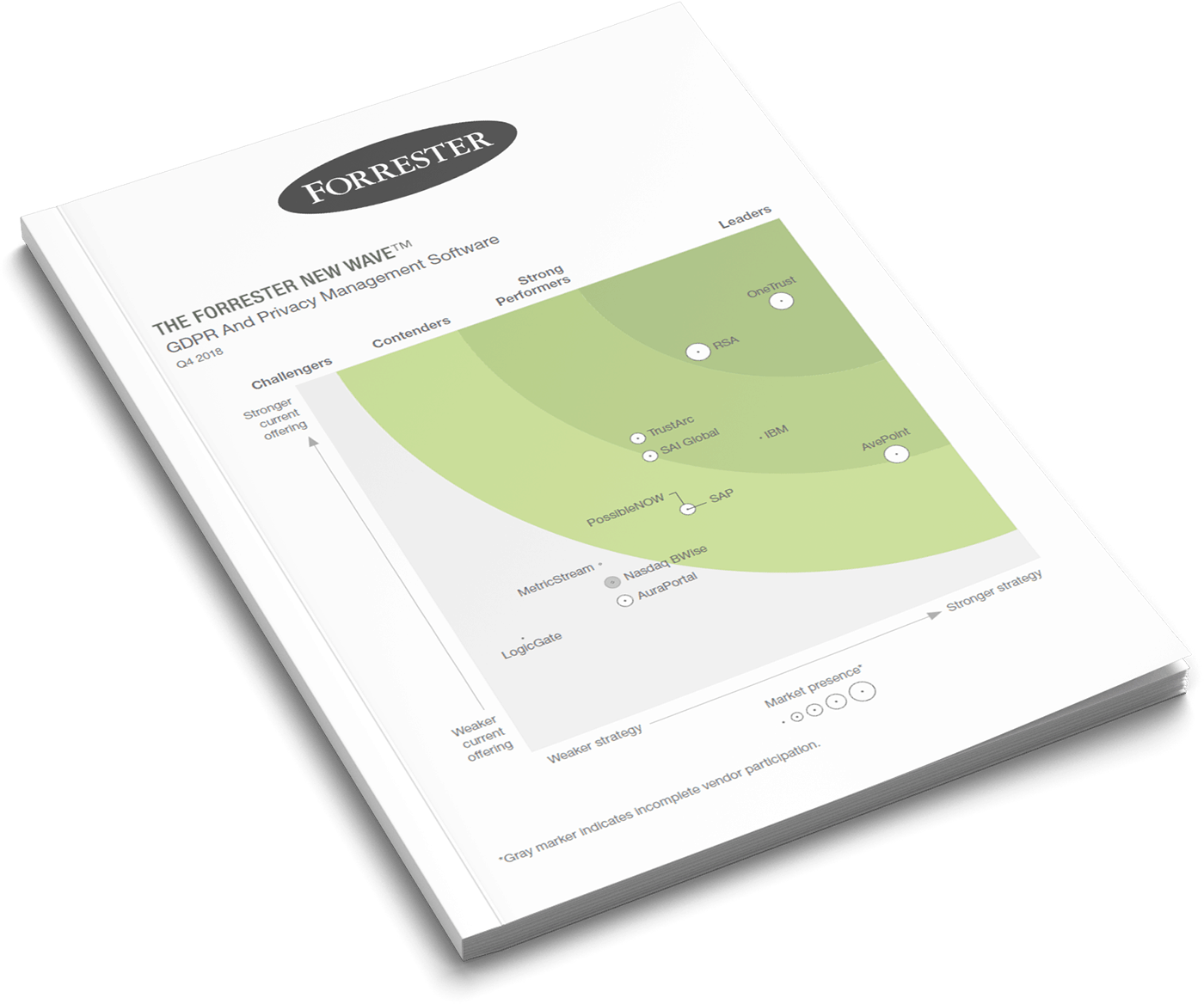 OneTrust Named a Leader in the Forrester New Wave™: GDPR and Privacy Management Software, Q4 2018
Download the report to learn why Forrester says OneTrust "leads the pack for vision and execution"
Read the Report
Compliance Made Simple
Regulations like the GDPR, CCPA, and others apply to companies of all sizes. Creating a mature compliance program doesn't have to be a costly and time-consuming endeavor. OneTrust offers powerful and easy-to-use compliance tools that are simple to get up and running. Start small by choosing only the tools you need to develop a compliance program that fits your company's use case.
---
OneTrust Solutions for Growing Companies

Legal Research
Portal
News & Alerts
Research & Comparisons
High-Impact Research Portals
Pre-Built Templates
Ask an Analyst
OneTrust Pro
Privacy & Security
Program Management
Assessment Automation
Data Mapping
Data Subject Rights
Vendor Risk Management
Incident & Breach Response
OneTrust CMP
Consent Management
Platform
Website & App Scanning
Cookie Compliance
Mobile App Consent
Universal Marketing Consent
Preference Centers
Flexible Pricing Options
Choose the tools you want and never pay for what you don't need
Powerful Training Tools
Get help how you need it, with getting started wizards, user guides, free workshops, and more
Intuitive User Interface
Work faster with an intuitive user experience that makes challenging tasks simple and easy
Easy-Add Functionality
Scale functionality to fit your company's use case and compliance program maturity
Faster Time to Value
Get started in hours, not weeks with a quick start deployment and access to our team of experts
Multilingual Capabilities
Support your global teams and enable employees to work in the language they know best

The OneTrust implementation was quite easily digestible. That was one of the main reasons we selected OneTrust -- the ease of use for everyone no matter their privacy background.
Patrick Marshall, Compliance Manager, Cleverbridge
Read the Case Study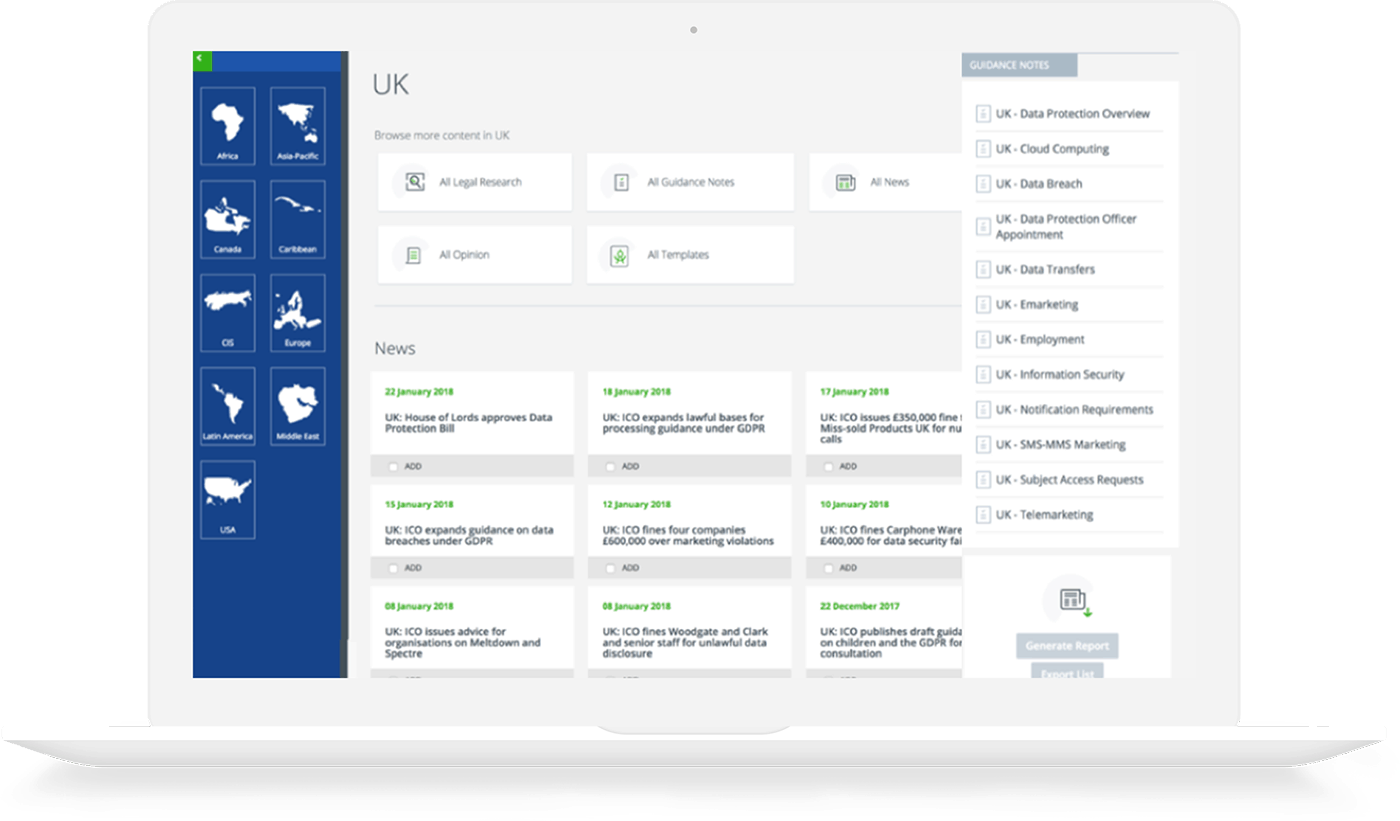 Stay Up to Date with the Latest Regulatory Changes with DataGuidance by OneTrust
News & Alerts | Research & Comparisons | High-Impact Research Portals | Pre-Built Templates | Ask an Analyst
DataGuidance by OneTrust is the world's most in-depth and up-to-date privacy and security regulatory research platform. The legal research portal is backed by more than 20 years of global legal research and leverages a contributor network of 500 privacy lawyers and over 20 in-house legal researchers. Use the in-depth research, information, insight, and perspectives to help maintain a global privacy and security compliance program that's aligned with the latest legal requirements and best practices.
Move from Spreadsheets to Software with Easy-to-Use Privacy Compliance Tools
Assessment Automation | Data Mapping | Data Subject & Consumer Rights
Easily move away from tracking compliance with email and spreadsheets. With OneTrust Privacy Program Management tools, streamline privacy impact assessments, build a data map, and automate privacy by design. These simple to use tools help you better understand how data usage throughout your company. Use these records to build regulator-ready reports without having to dig through spreadsheets and emails, saving valuable time and enabling your team to focus on mitigating risks.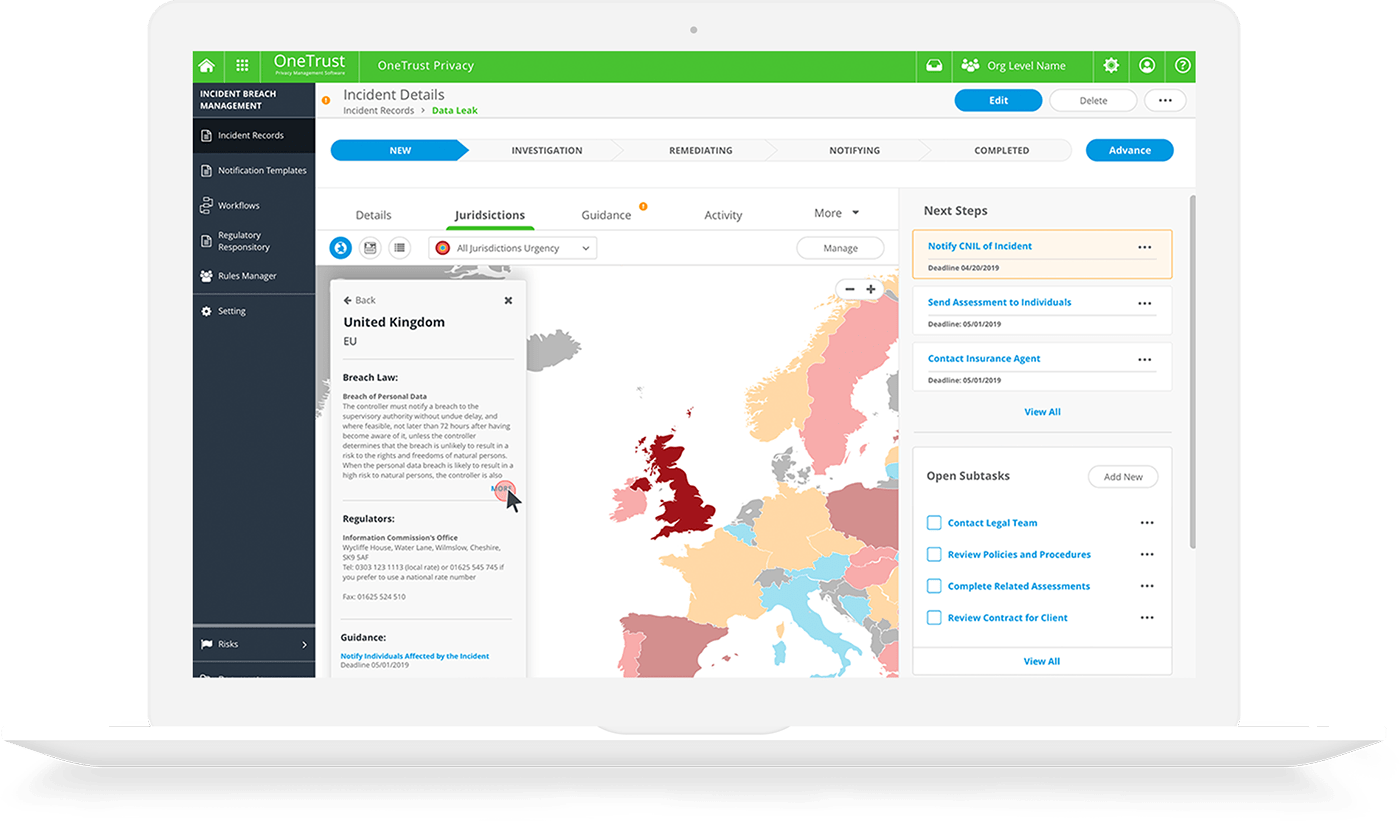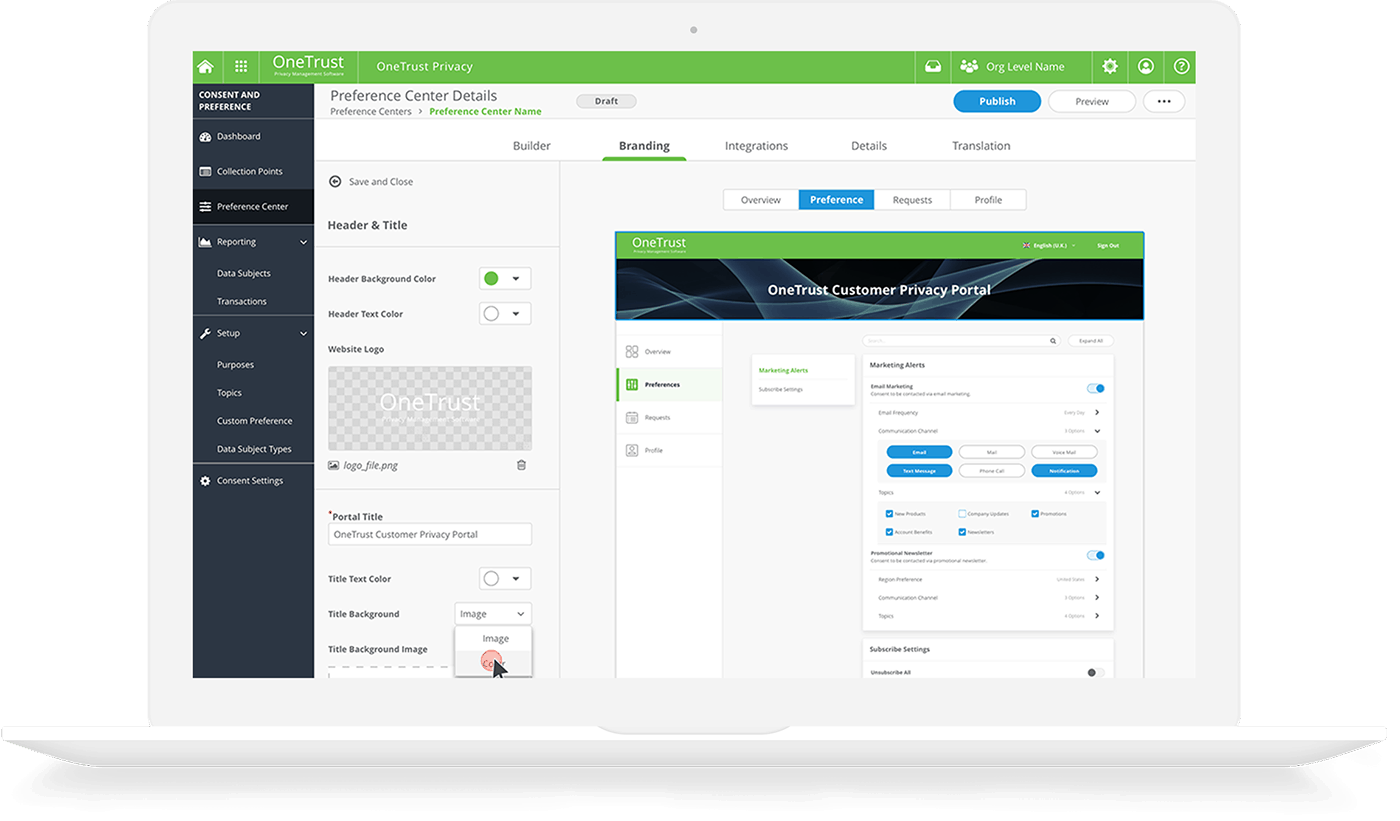 Enable Your Marketing Team with Compliance Tools Built to Create a Better Customer Experience
Website & App Scanning | Cookie Compliance | Mobile App Consent | Universal Marketing Consent | Preference Centers
Increase loyalty and trust with brandable compliance tools that don't compromise customer experience. OneTrust Marketing & Web Compliance tools help your company build compliant cookie banners, fulfill data subject requests, capture and document consent, and create customer preference portals. These brandable tools, help your company meet regulatory requirements, increase opt-in rates, and enhance personalization to better target interested prospects and customers. Mid-market companies can leverage quick-start wizards, product trainings, and support to roll these solutions out in hours.
Reduce Compliance Risks with Integrated Information Security Tools
Vendor Risk Management | Incident & Breach
Increase confidence in your company's security with user-friendly tools that you can build into your compliance program. These solutions are simple, efficient, and inexpensive, enabling you and your company's executives to sleep better at night. With Vendor Risk Management, reduce third-party vendor risks and streamline the completion of vendor risk assessments. And with Incident & Breach Response, build automation into your company's incident response plan to take a proactive security approach.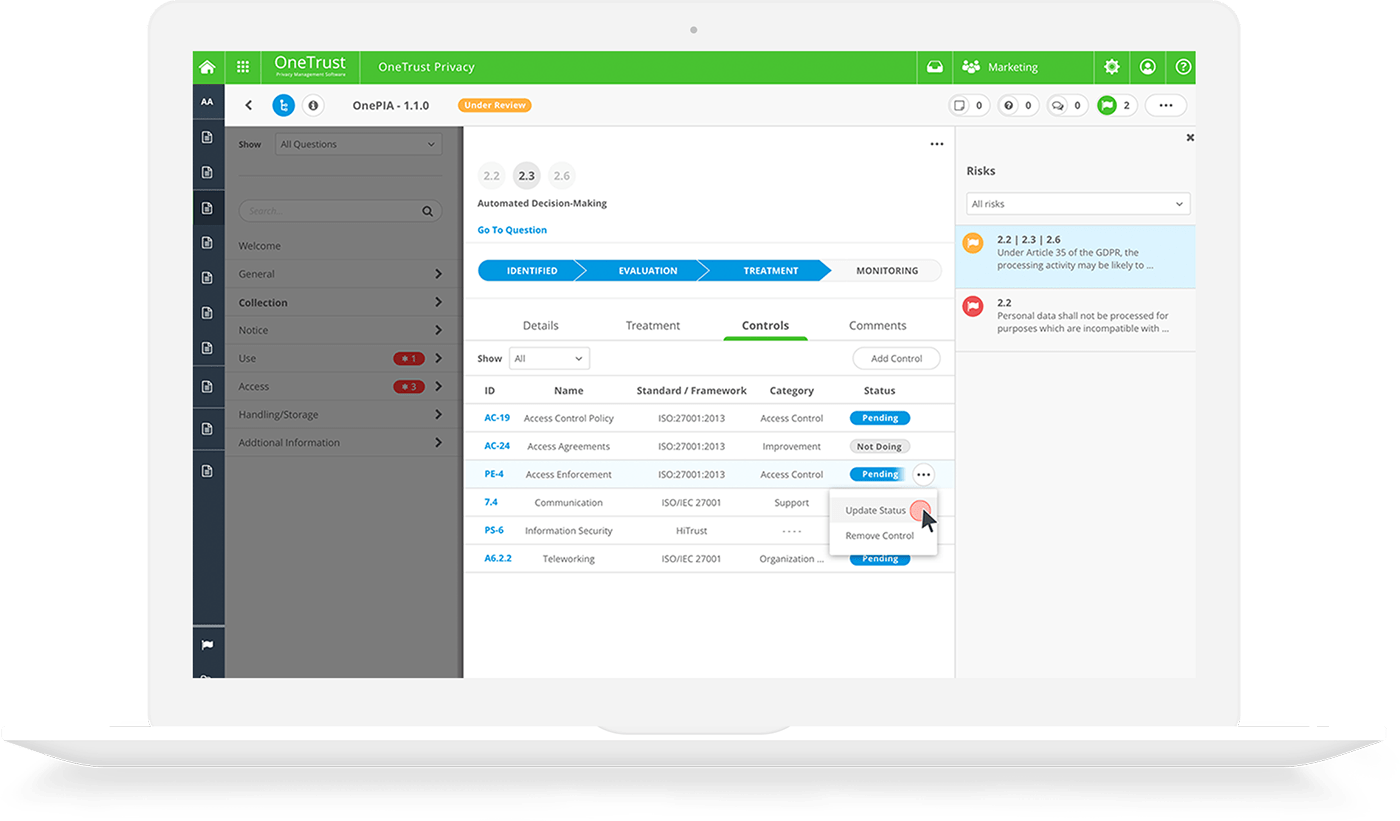 Pricing
DataGuidance by OneTrust
Legal Research Portal for Global Privacy and Security Regulations
News & Alerts
Research & Comparisons
High-Impact Research Portals
Pre-Built Templates
Ask an Analyst
Starting at
$200 Per Month
OneTrust
Pro
Privacy and Security Program Management Platform
Assessment Automation
Data Inventory & Mapping
Data Subject & Consumer Rights
Vendor Risk Management
Incident & Breach Response
Starting at
$100 Per Month
OneTrust Consent Management Platform
Marketing and User Experience Consent Management Platform
Website Scanning
Cookie Consent
Mobile App Compliance
Universal Consent
User Preference Center
Starting at
$30 Per Month
OneTrust Pro is available to companies with less than 1,500 employees globally, as well as non-profit organizations and state or municipal governments.