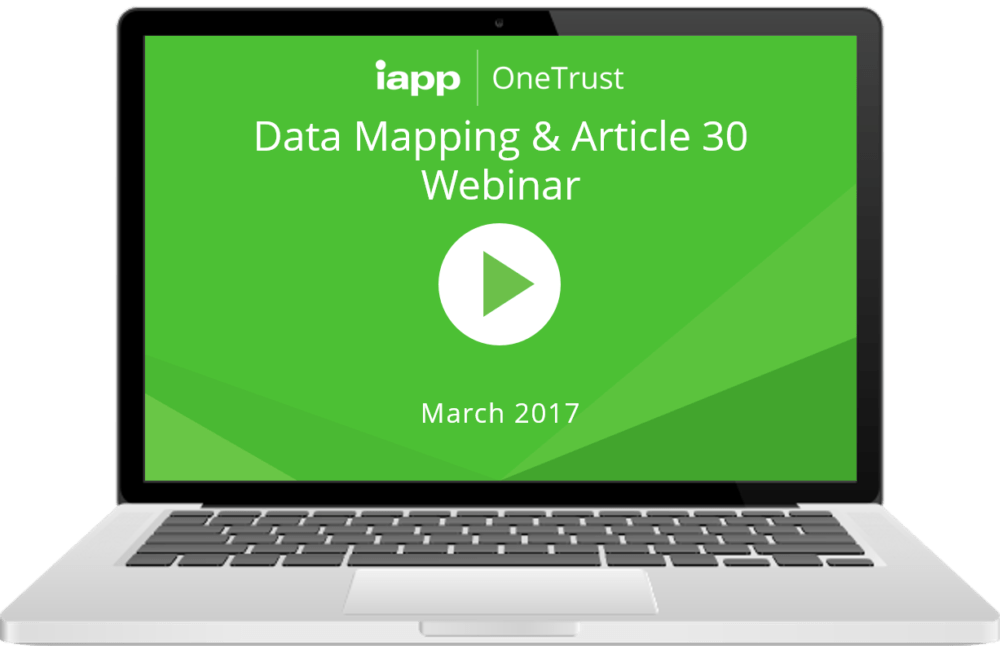 OneTrust | IAPP Webinar Data Mapping & Article 30: How to Scale in Practice
Post Date: March 24, 2017 | Webinars
Good data governance means understanding and controlling your organization's information flows. But before you can effectively achieve management of these processes you need to understand where your personal and sensitive information resides within your organization, where it goes, and that it's not a static environment. Additionally, Article 30 of the GDPR (among other articles) have specific requirements for compliance.
Enter data mapping. This foundational exercise is critical to the success of your data governance program, and while complex and challenging it can be achieved with the proper application of resources. In this webinar, you will learn about what data mapping is, a step-by-step guide about how to do it, and discover tips and tools that will help you get the job done more efficiently.
Key Takeaways:
A step-by-step guide about how to perform a data map
Breakdown of GDPR Article 30 requirements (and other relevant articles/recitals)
Pros and Cons of using Questionnaires vs. Intelligent Data Flow Scanning and In-house vs. Third Party Resources
Keeping you Data Map Evergreen and Up to Date
Speakers:
Kabir Barday, CIPP/US, CIPM, CIPT, CEO, OneTrust
Sabrina Houlton, Associate General Counsel, Data Privacy & Security, United Technologies Corporation
Veronika Tonry, CIPP/E, CIPM, CIPT, FIP, President, Privacy Know How, LLC
Privacy Notice
You can learn more about how we handle your personal data and your rights by reviewing our privacy notice.