With the California Consumer Privacy Act (CCPA) going into effect on January 1, 2020, businesses are scrambling to get on board with CCPA compliance. Due to the complex nature of the law, businesses everywhere are trying to understand the CCPA's recent amendments and the California Attorney General's latest proposed regulations in order to successfully continue their CCPA readiness.
In 2019, the International Association of Privacy Professionals (IAPP) and OneTrust fielded surveys to the IAPP membership base looking to benchmark and track CCPA compliance efforts over time. The results of this third and final survey have been released.
In this blog post, we'll discuss some of the key findings. For the full report, click here.
Efforts Toward CCPA Compliance
In early 2019, CCPA preparedness was severely lacking. Based on our survey's results, businesses' average preparedness score was 4.75 on a scale of 0 to 10 (with 0 being "have not started to prepare" and 10 being "fully prepared"). According to the CCPA Readiness: Third Wave report, that score leaped from 4.75 to 6.49 out of 10.
The pressure of CCPA compliance is driving businesses to work harder to achieve full compliance.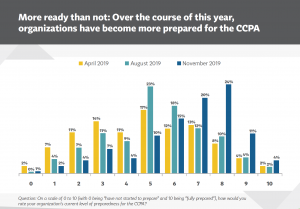 Target Date for CCPA Compliance
Despite the drive for CCPA compliance, fewer than half (42%) of businesses believe that they won't be ready until July 1, 2020, a whole seven months after the CCPA is set to take effect. The reason for this delay is the CCPA's complexity, which represents the biggest challenge in becoming compliant, despite the clarification of amendments.
What's the Biggest Motivator?
Reputation. Businesses are most concerned about their reputations and how that relates to consumer trust. Without trust, businesses fall short of their customers' expectations, putting their reputations on the line.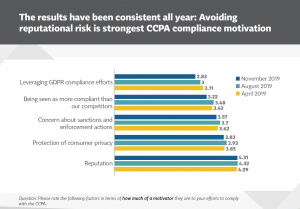 Conclusion
As the CCPA deadline rapidly approaches, many privacy professionals are pushing to reach CCPA readiness and compliance by the July 1, 2020 enforcement date. If you need help with your CCPA compliance efforts, contact us today at [email protected] to get started with our Same-Day CCPA Implementation Program.
The CCPA is coming. Are you ready? Download the report today .
Resources:
Check out our CCPA blog series: