The Inc. 500 – the prestigious annual ranking of the nation's fastest-growing companies – list is out. Thousands of companies apply. 5,000 make the cut, and only the top 10% of that make it into the elite Inc. 500. Of those, only one is at the top.  
It's official: OneTrust is the #1 fastest-growing company in America with 48,000% three-year growth.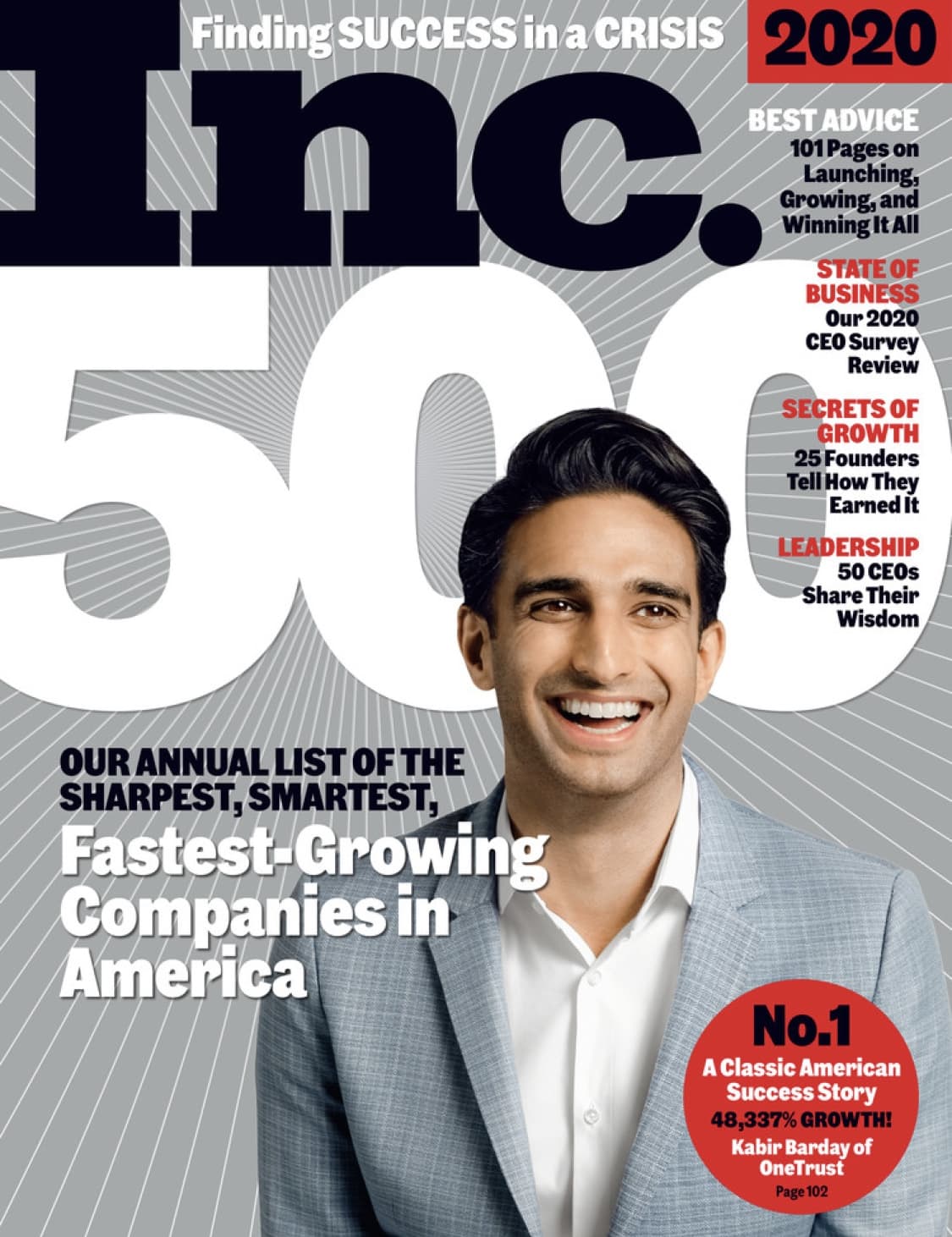 We're defining an entirely new market category of software – the industry of trust – and the market is certainly responding. We make it our business to give companies the tools they need to be more trusted. We help them turn trust into a competitive advantage. 
How do we continue to lead the way? Innovation. We keep our fingers on the pulse of what it is companies need to stay ahead. Our key products include: 
A lot of hard work goes into being #1, and we're proud that over the last four years we have grown across: 
Our Network – Over 6,000 customers, big and small, across 100 countries with more than half of the Fortune 500;
Our Team – 1,500 employees strong, across 12 global offices; and
Our Intellectual Property – 100 patents strong and counting 
Related: OneTrust Series B Funding Brings Valuation to $2.7 Billion 
And the best part is, we've only just begun. We have so much more to give to our customers, partners, and community every single day. We're in it for the long run, to keep growing, and to keep building the best privacy, security, and data governance platform.  
THANK YOU: We couldn't have done it without you. Yes, you.  Our customers, partners, community, and most importantly, our team. None of this is possible without you. Today we celebrate – but – the hard work does not stop there. We'll continue on our mission to build the technology that helps companies cultivate trust. 
Want to join our team? We're hiring. 
More about Inc. and the Inc. 5000 
Methodology 
The 2020 Inc. 5000 is ranked according to percentage revenue growth when comparing 2016 and 2019. To qualify, companies must have been founded and generating revenue by March 31, 2016. They had to be U.S.-based, privately held, for profit, and independent—not subsidiaries or divisions of other companies—as of December 31, 2019. (Since then, a number of companies on the list have gone public or been acquired.) The minimum revenue required for 2016 is $100,000; the minimum for 2019 is $2 million. As always, Inc. reserves the right to decline applicants for subjective reasons. Companies on the Inc. 500 are featured in Inc.'s September issue. They represent the top tier of the Inc. 5000, which can be found at http://www.inc.com/inc5000. 
About Inc. Media 
The world's most trusted business-media brand, Inc. offers entrepreneurs the knowledge, tools, connections, and community to build great companies. Its award-winning multiplatform content reaches more than 50 million people each month across a variety of channels including websites, newsletters, social media, podcasts, and print. Its prestigious Inc. 5000 list, produced every year since 1982, analyzes company data to recognize the fastest-growing privately held businesses in the United States. The global recognition that comes with inclusion in the 5000 gives the founders of the best businesses an opportunity to engage with an exclusive community of their peers, and the credibility that helps them drive sales and recruit talent. The associated Inc. 5000 Conference is part of a highly acclaimed portfolio of bespoke events produced by Inc. For more information, visit www.inc.com. 
For more information on the Inc. 5000 Conference, visit http://conference.inc.com/.