Privacy & Compliance

Operationalize global privacy compliance with powerful automation tools to streamline your privacy program.
Learn How OneTrust Privacy Program Management Will Help Your Team:
Comply with CCPA, GDPR, LGPD, and 100's of other global privacy laws
Simplify compliance program decision making with powerful research portals
Automate the intake and fulfillment of privacy rights requests
Leverage intelligent risk mitigation to discover and address risks faster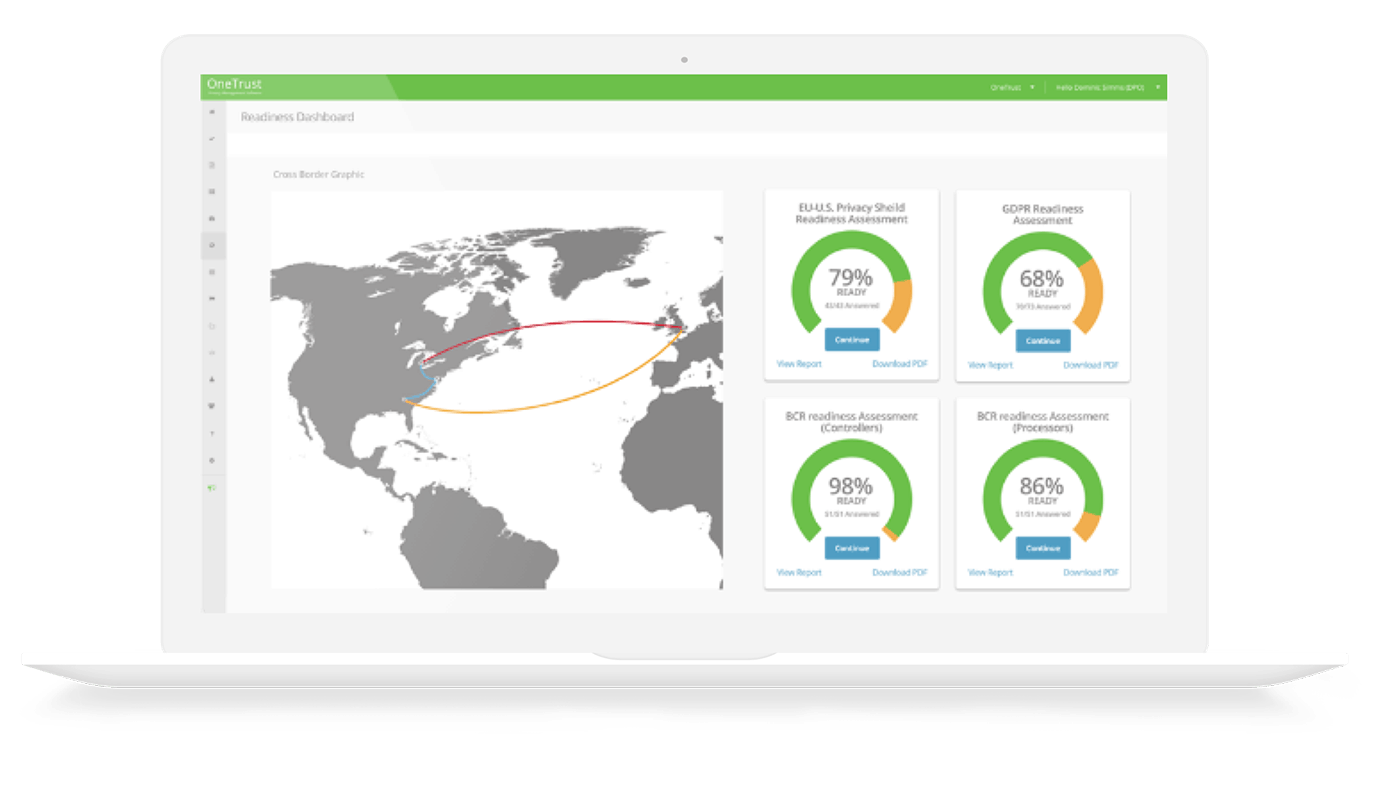 Simplify Privacy Program Management With OneTrust​
Global privacy laws like the CCPA, GDPR, and others, have required organizations to change the way they think about privacy. Now, organizations must find ways to effectively manage consumer requests, meticulously document processing activities and data transfers, and stay on top of a rapidly evolving regulatory landscape. OneTrust offers powerful and easy-to-use compliance solutions that are purpose-built to solve these challenges at scale – allowing organizations to simplify their privacy program management.
OneTrust for CCPA​
Learn how OneTrust can help your organization comply with the new California Regulation
OneTrust Privacy Program Management
ASSESSMENT AUTOMATION
PIAs & DPIAs | Privacy by Design | InfoSec
PROGRAM BENCHMARKING
Benchmark Against Peers | Compare Industries & Regions
ONETRUST DATAGUIDANCE
Research Portal | Pre-Built Templates | Ask an Analyst
DATA MAPPING AUTOMATION
Records of Processing| Inventory | Cross-Border Transfers
MATURITY & PLANNING
Assess Maturity | Multiple Frameworks | Remediation
TARGETED DATA DISCOVERY
Discover Data | CRM & HRIS Integrations​g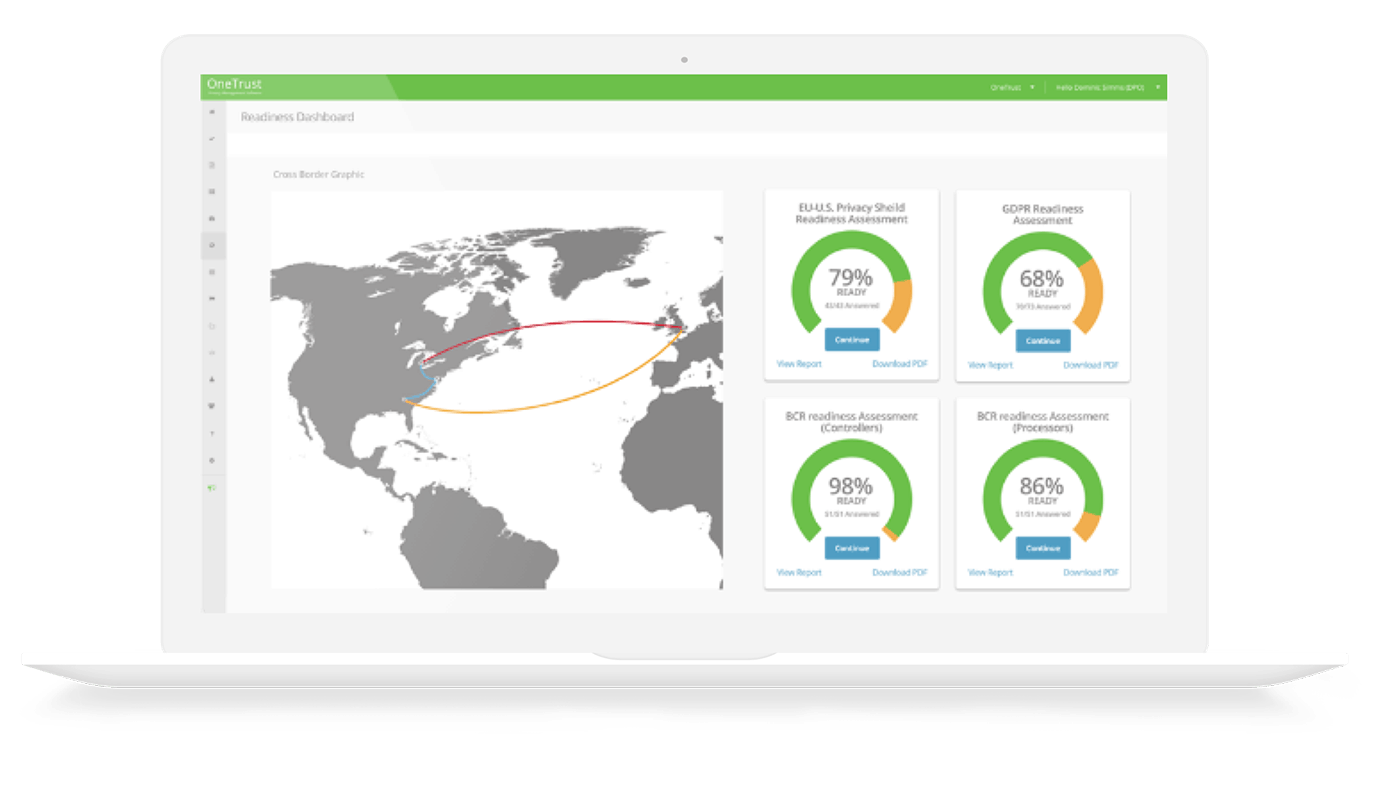 Start a Free Trial Today!​
See if OneTrust Privacy Program Management is right for you.
Test drive the tools before you buy with a 14-day free trial.
Try Free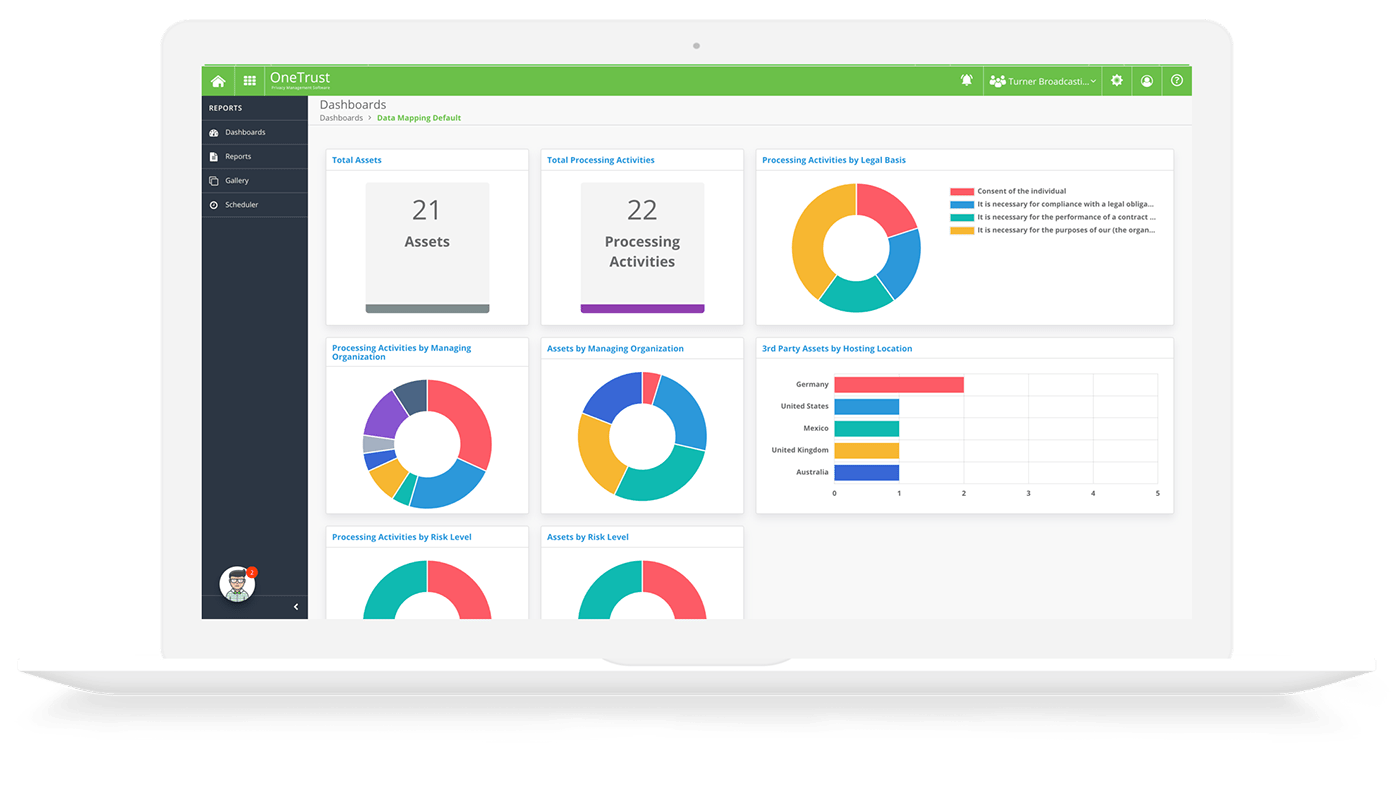 Scale Record Keeping, Identify Risks & Track Remediation Efforts
Assessment Automation | Data Mapping​ Automation
OneTrust gives you complete visibility into privacy projects across your organization. Better understand the sources of risk and measure the impact of your privacy program in mitigating these risks and protecting the privacy of your customers and employees. Streamline privacy impact assessments, build a data inventory and map, and automate privacy by design for your organization. Easily generate custom reports, track data as it flows through your organization, and gather and centralize privacy records across your organization with assessment technology built for privacy teams.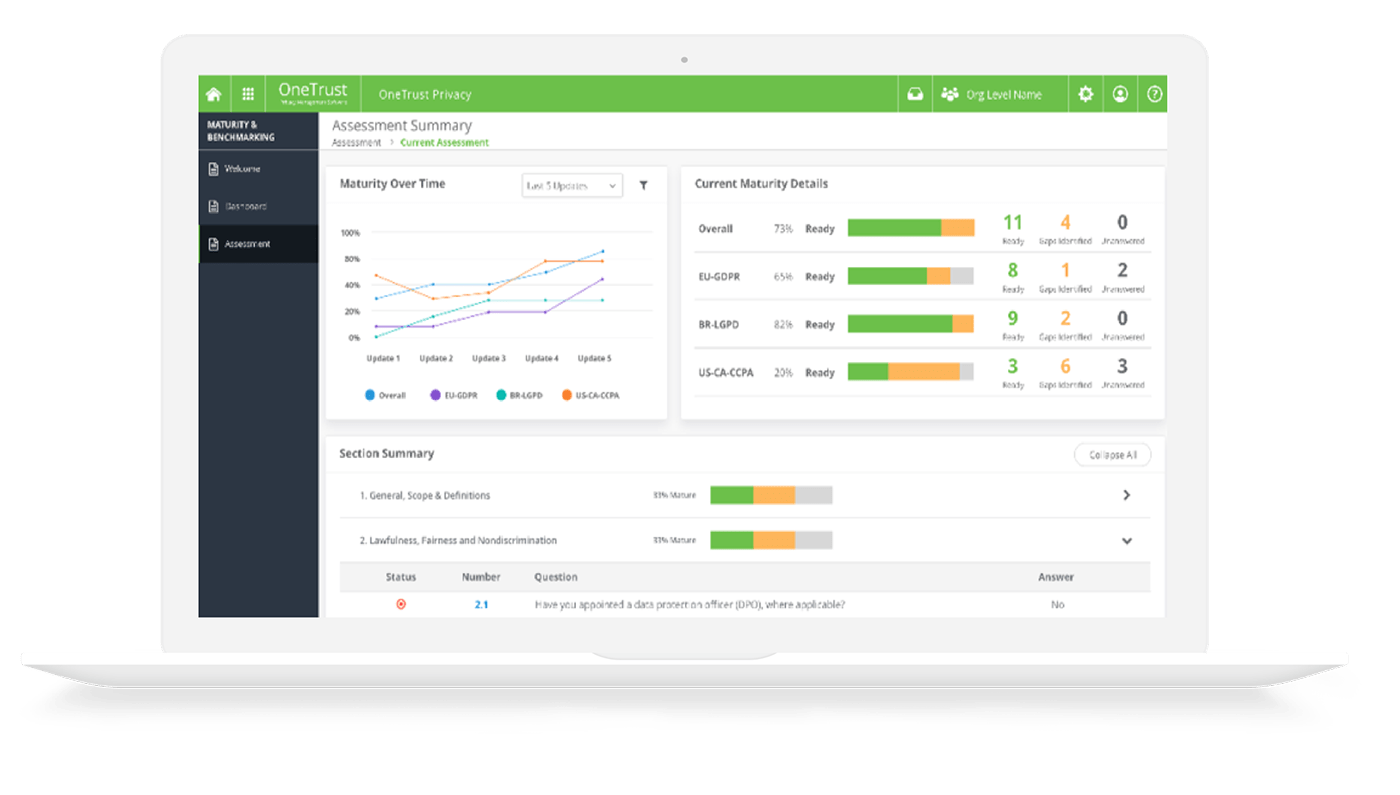 Know Your Overarching Compliance Maturity & Build Your Compliance Program​
Maturity Planning | Program Benchmarking​
Measure your organizational maturity against a dynamic framework of global privacy and security laws and frameworks for the CCPA, GDPR, Privacy Shield, BCR (controllers and processors), and APEC CBPR. Better prepare for compliance by benchmarking your privacy maturity against 300+ other companies in your industry or region, or at a similar company size. Prioritize requirements to plan and build your compliance plan based on risk flags and gap identifications from readiness assessments, and gain executive-level visibility and clarity regarding regulatory requirements by providing clear and concise, detailed reporting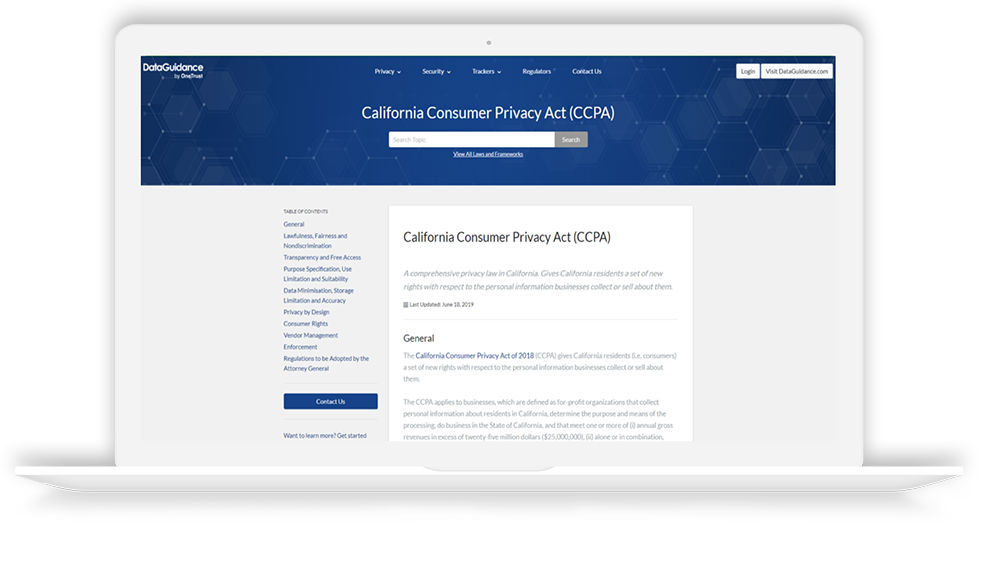 Stay Up-to-Date with the Most Extensive Privacy, Security, and Third-Party Risk Research​
OneTrust DataGuidance
OneTrust DataGuidance is a dynamic regulatory research platform that gives organizations the tools they need to make the right decisions when building a successful compliance program. The platform has organized, summarized, and made searchable hundreds of global privacy and security laws and frameworks. With 20 years of operations in the market, OneTrust DataGuidance hosts over ten thousand associated templates, guidance, case law, and resources. Daily research updates and region-specific insights spanning 300 jurisdictions are made possible by a contributor network of 500 lawyers and 20 in-house legal researchers.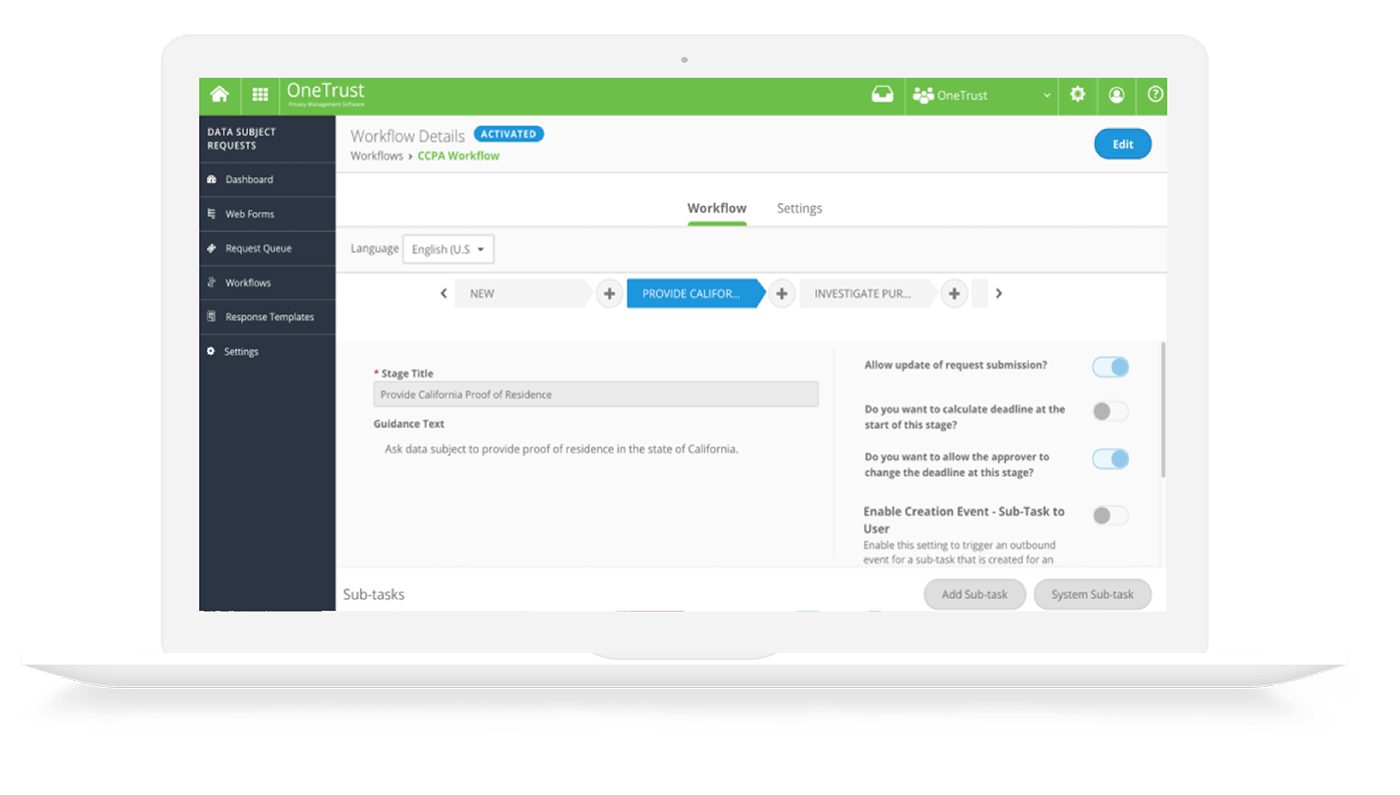 Automatically Find and Retrieve Targeted Data from Your IT Systems
OneTrust Targeted Data Discovery
OneTrust Targeted Data Discovery technology gives organizations an understanding of what data they hold, how it is used, and provides the ability to take necessary actions on the data for proper request fulfillment to demonstrate compliance against global regulations. The tool integrates deeply with the OneTrust Privacy Rights (DSAR) Automation solution to help find and retrieve information across systems for fully automated and faster fulfillment. Automatically "lookup" individuals' data across cloud and on-premise systems, maintain security standards with data review, redaction, and approval workflows, and integrate with industry leading third-party IT service management tools.​