April 14, 2022
No More Silos: Finding Automation Opportunities for IT and Third-Party Risk
Risk is dependent on department and has a singular theme: it is inherent to the organization and must be managed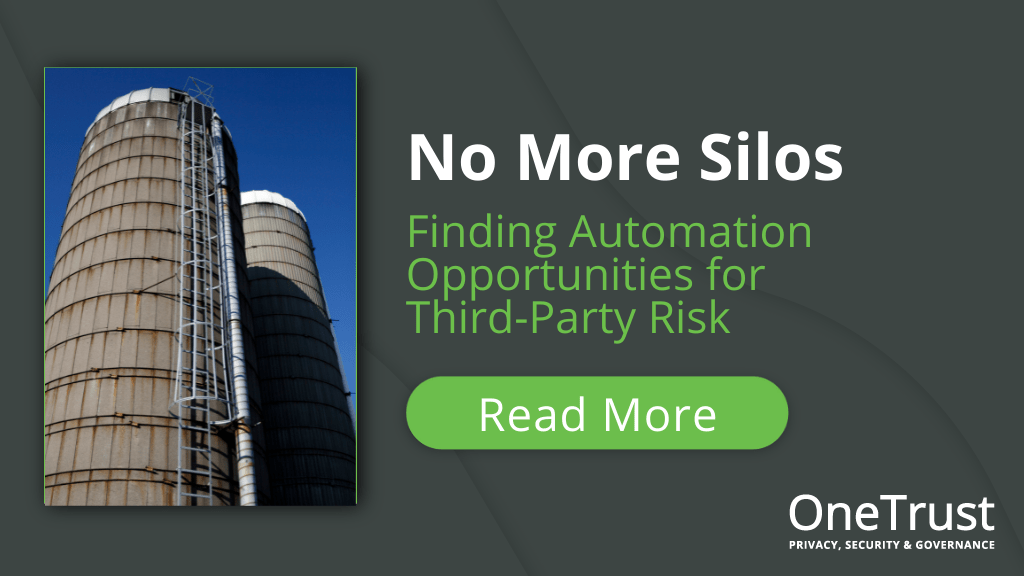 As the number of departments within an organization expands due to industry growth factors — various centers of excellence, trust-focused departments, and specialized teams — so do the third-party partnerships. The median organization contracts with 5,000 third parties, according to a Gartner Research Report, with 71% of companies believing that number would increase between 2020 and 2023. 
A natural reaction to that growth is a new set of risk factors that will differ between business units, leading to an organic — albeit unwanted — silo effect.  
Hear more about establishing intelligence-enabled SecOps and risk teams in this webinar. 
Breaking Down Silos Between IT and Third-Party Risk
While risk takes on different factors depending on department, it has one overriding theme: it's inherent to the organization as a whole.  
However, the risk domain — or how you evaluate and address risk in the business — will use specialized tactics and processes to most effectively manage risk. While many of those practices will be transferable, each domain has unique needs and capabilities, and often a risk language or criteria. Making it very difficult for third-party risk teams to translate a comprehensive profile across the business.  
The unique nature of SaaS-based vendors providing products and services requires significant input from the IT risk team. But data is not always shared proactively between these separate risk domains.  
Getting insights and perspectives outside the business is often the primary focus of TPRM programs, but internal communication and collaboration is just as important.  
Learn more about just how many third parties are used by companies of all sizes with this white paper, titled "Third-Party Risk: A Turbulent Outlook" 
Circumstances Contributing to the Challenge
Siloed departments lead to disparate processes and management best practices. Challenges to third-party risk management and mitigation abound when organizations don't have uniform methodology, undermining automated processes. Here are some of the key circumstances that often lead to these challenges: 
Reactivity instead of proactivity: These engagements are often driven by external factors such as incident or compliance initiative that the organization is having to respond to., businesses are stuck in a cycle of reactivity rather than proactivity

 

Differing priorities: Third-party risk management is focused on bridging the gap with external partners. Manual TPRM practices are arduous and subject to human error, creating a priority list too long to appropriately strategize the best processes

 

Time-intensive: Working with third parties manually for check-ins, follow-ups, and remediation (when applicable) is time- and resource-intensive. This can also be duplicative of the work being executed by internal risk teams to document and store data

 

Tooling, and re-tooling: Businesses that try and build their own risk management solutions are met with additional challenges like heavy customizations and often lack adequate connection points

 
Standing up an integrated third-party risk management program solution to bridge information gaps and streamline mitigation needs and compliance protocols lightens the time and resource burden across all business units and helps to break down risk silos.  
Finding Key Synergies to Automate Risk Management
So how is a business unit expected to find synergies and standardize risk management among its third-party partners? Depending on organization size, that vendor network could easily be in the triple digits, meaning more than 100 risk vectors for that business unit with extremely limited visibility.  
Assessments are the easiest tools to help identify risk management opportunities. Here's how they benefit your business: 
Streamlining Risk Assessments
Sharing and collaborating on assessment templates to ensure and reinforce that you're capturing the entire picture for IT and information security teams. Rather than having multiple, disjointed engagements asking the same question with slightly different perspectives, InfoSec teams should be a collaborative part of the assessment process. This needs to be done to prove compliance across a variety of standards such as NIST, ISO, and privacy regulations such as GDPR.

 
Dynamic Workflow
A flexible workflow can help guide the unique processes for a third-party risk process and/or IT risk mitigation and lifecycle management. Enabling cross-functional collaboration as changes are recognized with vendor practices, or the business adjusts how IT assets and services are applied in the organization. 

 
Centralized Insights
Structuring the who, what, where, and identifying other risk stakeholders that may already have additional insights into a common database. While evaluating the residual risk to the business that isn't owned by TPRM, it will influence how you or your business engages with that vendor in the future. Having a centralized source of truth enables you to understand the concentration of risk that a vendor could expose to your business, in the

context of overall IT operations

. Teams can then automate reporting for either business operations or leadership and the board.

 
By leveraging a standardized risk methodology and a common database, automation opportunities can be expanded across your risk domains. With automation keeping data and activities in sync, cross-functional collaboration can be executed at scale.    
How Can OneTrust Help?
OneTrust provides out-of-the-box compliance content in the form of pre-seeded controls, and assessment templates that clients can access and use from day one. Our in-house team of legal and security researchers track the latest changes across regulations, standards, and frameworks and tailor compliance requirements and best practices into pre-configured tools for businesses to streamline time to value and reduce manual, administrative tasks.   
Contact our team to learn more about how OneTrust can help streamline information gathering and remediation activities with tailored functionality and automation backed by compliance intelligence.  
Subscribe to our newsletter for the latest news on privacy, security, and trust.