With recent stay-at-home orders, millions of consumers are creating and reinforcing new online buying behaviors and habits. Buyers are turning to the internet, mobile applications or streaming devices to access content, convert, and purchase. Now, more than ever, companies need to provide a personalized online experience and understand where people are converting to effectively measure online campaigns and monetize ad revenue.
Additionally, according to regulations such as the General Data Protection Regulation (GDPR), EU website visitors must be given the option to opt-in or opt-out of non-essential cookies before they're used. Professionals in the ad tech industry are challenged with capturing consent from end-users across devices for marketing and advertising purposes, making it hard to measure the effectiveness of online campaigns if consent is not given.
Google Consent Mode
Google has created a solution to bridge the gap between the advertising and privacy worlds. To launch the new solution, OneTrust worked with Google to test the new APIs ahead of release and validates the successful integration with OneTrust's Cookie Compliance products.
The newly introduced solution is called Consent Mode, which provides more flexibility to publishers and advertisers leveraging Google tags paired with a consent tool. The recently expanded APIs are for several of Google's analytics and advertising technologies to control data capture and storage based on user consent.
With Google's Consent Mode, OneTrust customers can configure the behavior of tags based on the consent granted to get the best quality data and easily maintain compliance.
Because Google recently integrated its ad systems with the IAB Transparency and Consent Framework (TCF), this solution is for those that are not leveraging TCF 2.0. For companies actively using the framework, Google's ad systems will continue to read and respect the Transparency and Consent String.
Google's Consent Mode applies to the following products deployed using either the global site tag (gtag.js) or Google Tag Manager (GTM)
Google Ads
Floodlight
Google Analytics
Conversion Linker
Advertisers are able to use this new solution to attribute conversions to campaigns, enabling better optimization and ad monetization, through greater insights into data, all while respecting consent choices. Additionally, while using Google Analytics, Consent Mode respects user consent for ads cookies. If an end-user does not consent, Analytics will not read or write ads cookies, meaning that optional features that rely on ​Google signals​ will be disabled.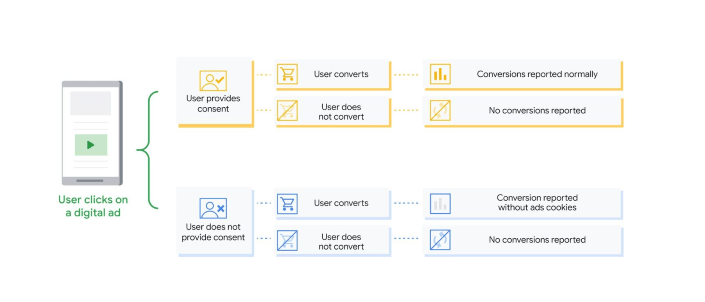 Source: Google
By leveraging Consent Mode, OneTrust customers can control when Google products will read and write cookies on a visitor's device for the purposes of advertising or analytics. OneTrust customers also have the flexibility to integrate with the Google consent APIs using either gtag.js or GTM, or a combination of the two. Additionally, geolocation capabilities can be leveraged to support differing requirements around the world.
The Leading Cookie Compliance Tool
OneTrust helps thousands of websites stay compliant with EU data privacy regulations by providing easy-to-deploy, customizable GDPR compliant cookie banners. These allow websites to easily receive permission from users to drop cookies and capture cookie data.
These can be integrated with all web technologies so that receiving consent becomes the trigger for using cookies and additional data processing. This makes it easy for customers to set their website to only use cookies after the user has given permission for it to do so.
As OneTrust allows website visitors to choose which type of cookies they want to accept, customers can set granular triggers for each cookie category, including analytics and advertising. If you want more information about how OneTrust integrates with Google's new Consent APIs or the impacts of using these APIs on Google products, read the full technical guide here.
OneTrust offers a free, full-featured, enterprise edition of our cookie consent solution for your first website domain. Get started today!