June 24, 2022
OneTrust Integrates with Salesforce to Enable Trusted Data Use
Manage your Salesforce environment with a privacy-first approach through OneTrust Consent & Preference Management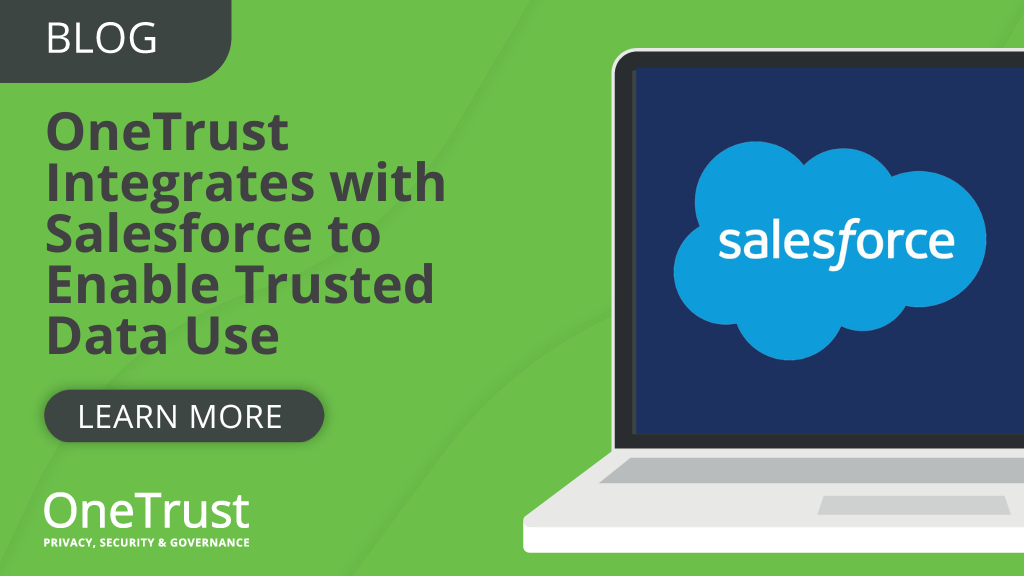 Marketing is a data-driven business. As marketers, you capture data through several endpoints across different channels and process the data through different systems, including Salesforce Marketing Cloud and Sales Cloud. MarTech, Marketing Operations and IT Teams are faced with a unique set of challenges – from data duplication and invalid consent proof, to driving opt-in rates while appropriately managing real-time consent and preferences. Managing this data ecosystem effectively while prioritizing privacy can give your business an added layer of trust in its data.  
When Data Flows, Trust Grows
Collecting consumer data through touchpoints that offer data transparency and value exchange is key for front-end digital trusted experiences. However, once that data is collected, honoring privacy choices and managing data on the backend of disparate systems can be a nightmare for organizations. Consent and preference management integrations can be cumbersome, requiring expert-level developer knowledge to properly map fields and data between Salesforce and other systems. 
That's why OneTrust Consent and Preferences has introduced a new out-of-the-box integration with Salesforce Sales Cloud and Salesforce Marketing Cloud. The integration wizard helps organizations facilitate easier data transfer between OneTrust Consent and Preference Management and Salesforce. The native integrations enable streamlined configurable data mappings and consent flow synchronization to Salesforce. 
Benefits of the native Salesforce Integration with OneTrust Consent and Preferences include:  
Real-time synchronization of consent and preference choices 

 

Reduced time to implement an integration with Salesforce  

 

Increased marketing-consented databases

 

Centralization of consent details and customer data 

 

Implementation of protective measures and controls across Salesforce 

 

Valid proof of consent for compliance purposes 

 
How the Salesforce Integrations Work
Employing a consent and preference management platform that integrates with Salesforce allows your marketing team to operate with a privacy-first approach to personalization and leads to better segmentation, addressability, and brand loyalty while prioritizing customer privacy and responsible data ownership. 
Here's how it works:  
Configure

branded data collection points within OneTrust  

 

Use the Salesforce integration wizard to set up data flow connection into Salesforce clouds 

 

Ensure that fields found in Salesforce align with OneTrust fields 

 

Before deployment, view a data mapping summary that has been configured

 
OneTrust Consent and Preferences
OneTrust Consent & Preferences delivers technology that enables brands to empower consumers with control over their data, leading to better segmentation, personalization, and brand loyalty—all while making privacy compliance simple. In today's ever-changing digital world, demonstrating transparency and true value exchange to customers around their data leads to higher opt-ins, conversions, a better user experience, and a trusted customer base. With OneTrust Consent and Preferences, marketers, privacy professionals, and data governance teams pave the way to privacy-first trusted experiences across websites, mobile, OTT, and CTV applications through digital tracking governance, transparent data capture, and privacy-first data activation.  
Configure and optimize digital experiences that enable control over consumer data across browsers, apps, and TVs 

 

Address regulatory requirements with agility, through intelligence trained on the world's largest source of regulatory research to operationalize compliance workflows and reporting across the organization

 
Ensure trusted data use by facilitating the capture of consent, preferences, and first-party data from individuals and ensuring that those choices are respected in marketing and business systems

 
Using a consent and preference management platform paired with Salesforce Marketing Cloud and Sales Cloud enables your team to capture, store and sync consent, preferences and first-party data trusted campaigns that don't jeopardize customer privacy.   

Tags: