May 13, 2022
OneTrust Selected by Samsung Ads for CMP Rollout Across Samsung TV Plus Service in Europe
Consent and controlling your data gets easier on Samsung TVs with OneTrust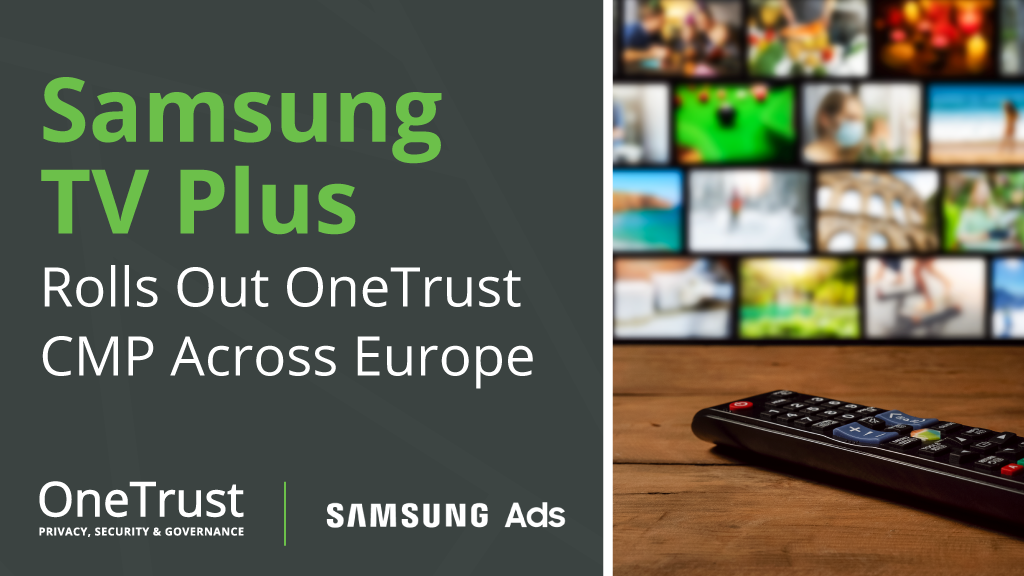 Today, as users stream content on-the-go via their smart phones or at home on their tablets and smart TVs, it's critical that advertisers deliver trusted experiences by enabling control over users' privacy choices, and ensure consent and preferences are respected across every channel and device.  
Samsung Ads, the advertising division of Samsung Electronics, has tapped OneTrust Consent & Preferences for consent management platform (CMP) deployment across its Samsung TV Plus service in Europe. OneTrust's industry-recognized CMP gives consumers more control over how their data is used and gives advertisers the confidence that consumers' rights are being protected. 
OneTrust CMP for Connected TV (CTV) 
Audiences have embraced streaming services at incredible rates, and data shows CTV ad spend will reach $29 billion by 2024, more than double the 2021 total of $14.44 billion. With OneTrust's CMP on Samsung TV Plus, advertisers can put privacy and transparency first, more easily obtain consent, and then honor users' preferences – all while ensuring compliance with GDPR, IAB TCF 2.1, and more.  
OneTrust CMP is designed to ensure advertisers can appropriately capture consent and preferences, and effectively signal it downstream to ad tech vendors: 
GDPR and ePrivacy opt-in consent: Facilitate GDPR and ePrivacy compliance with transparent data processing communications, clear opt-in consent collection when required, and a full audit trail of consent receipts to demonstrate compliance

 

Advertising and IAB TCF 2.1: Leverage the IAB TCF 2.1 framework to conduct targeted advertising in compliance with the GDPR, while appropriately storing consent and preferences 

 

Multiple user profiles: Enable consumers of the same household to manage their preferences as individuals, allowing for more granular user controls within OTT or CTV platforms

 

Authenticate users across devices: Easily manage and optimize user consent collection on all channels, including mobile, web and OTT or CTV

 
"Protecting privacy and honoring users' preferences is one of the best ways that brands can build trust with their audiences today," said Blake Brannon, Chief Strategy Officer at OneTrust. "We are proud Samsung chose OneTrust to reinforce their privacy-first approach to customer experience and support advertisers in promoting trust and transparency across all interactions. From our smart home connected devices, phones on the go, and everywhere in between, it's critical that trust remains a constant in our increasingly connected digital future." 
Choice and Transparency for CTV Audiences
With OneTrust CMP, consumers have more choices over how their data is collected for advertising purposes via streaming. Audiences are empowered to take control of the processing of their data and can establish preferences surrounding when, how, and about what advertisers can engage with them. In compliance with GDPR, OneTrust CMP also provides users the ability to exercise their data rights – including the right to access or delete data – through a settings menu. 
"At Samsung Ads, consumer privacy is at the forefront of our services and products," said Alex Hole, Vice President and General Manager of Samsung Electronics Europe. "We are proud to be leading the way in the industry with our privacy-first approach. For our advertising partners, this framework provides the necessary confidence that in placing their ads in our Samsung TV Plus environment, they will be entirely operating according to consumer's choice."  
OneTrust's CMP has begun its rollout on Samsung TV Plus across eligible Samsung Smart TVs and Mobiles in the UK, Germany, France, Italy, Spain, Austria, Switzerland, Netherlands and Sweden.  
To learn more about OneTrust Consent & Preferences: 
Next steps on OneTrust Consent & Preferences: 

Follow OneTrust on LinkedIn, Twitter, or YouTube for the latest on OneTrust Consent & Preferences.