The #1 Most Widely Used CMP for Publishers
Audiences are increasingly interested in privacy protection but also expect personalized experiences. How can publishers deliver compliance, personalization, and privacy while capturing first-party data? OneTrust provides the leading CMP for Publishers to comply with GDPR, CCPA, and ePrivacy regulations, and frameworks from the IAB and DAA.
Are you ready for IAB TCF v2.0? Check out our resources to learn more about our support for the upgraded framework, including a webinar featuring IAB Europe 'Publishers Need to Know: Navigating IAB TCF v2.0'.
Source: Adzerk Consent Management Platform (CMP) 2020 Tracker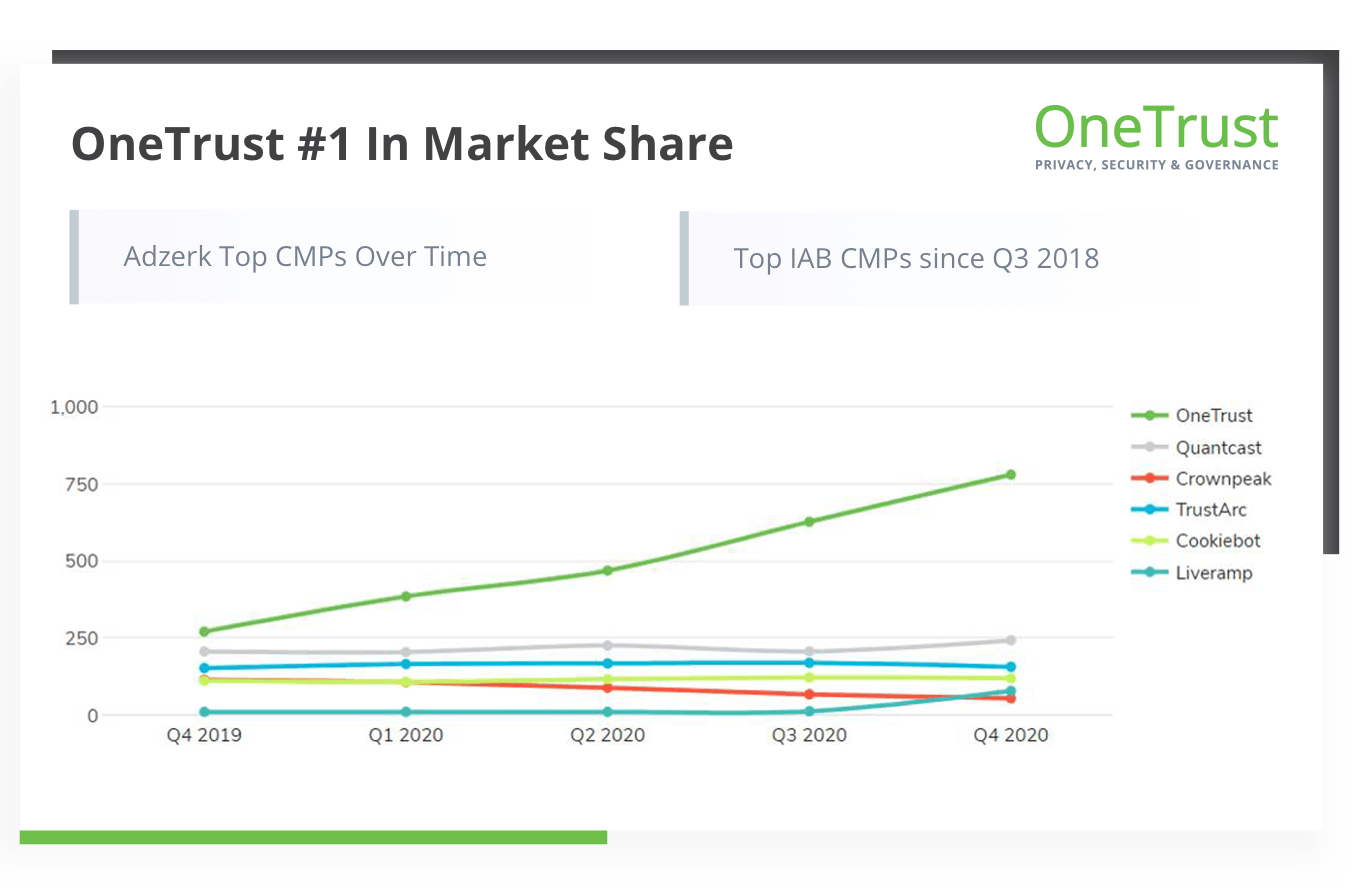 OneTrust for IAB TCF v2.0
2020 Master Class Webinar Series
---
Accelerate Your TCF v2.0 Update | Empowering Publishers | CMP for IAB Support
Checklist for August 15th Deadline
With

 OneTrust

 

PreferenceChoice

 CMP

,

 publishers can 

optimize consent rates while 

ensur

ing

 compliance

 with
global regulations and frameworks

, 

engaging with

 

customer

s

 

across web, mobile, OTT and offline channels.
Automate Global Compliance: Simplify compliance with CCPA, GDPR, ePrivacy, IAB Europe TCF v2.o, DAA AdChoices and 100s of others
Share signals: Sync with Salesforce DMP, IAB TCF, Google DFP / AdSense / AdX, Google Tag Manager, Adobe DTM and more
Protect your ad revenue: Support header bidding/pre-bidding and monetize content in new ways based on first-party data
Collect consent across audience touchpoints: Leverage consent notices, banners, emails and even offline collection
Centralize consent records across platforms: Support for web, mobile apps, OTT, AMP and offline consent and preference collection
Earn audience trust: Demonstrate transparency and empower your audience with tools to control their consent and preferences
Drive opt-ins and engagement: Track and analyze consent rates with pre-built, real-time dashboards and reporting, deploy A/B testing, and monitor to maximize opt-in rates
Integrate with existing tech stack: Protect investments with easy integration with Adobe Advertising Cloud, Facebook, FreeWheel, mParticle, Salesforce Audience Studio and more
Increase Opt-In Consent Rates to Drive Engagement and First-Party Data Capture
Empower your audience to control their privacy preferences using the leading end-to-end consent management solution
Performance racking to optimize monetization strategies in the age of compliance
A/B testing to maximize engagement, opt-ins and first-party data capture
Real-time analytics through dashboards and granular reporting for user insights
Just-in-time consent provides transparent collection and usage information as needed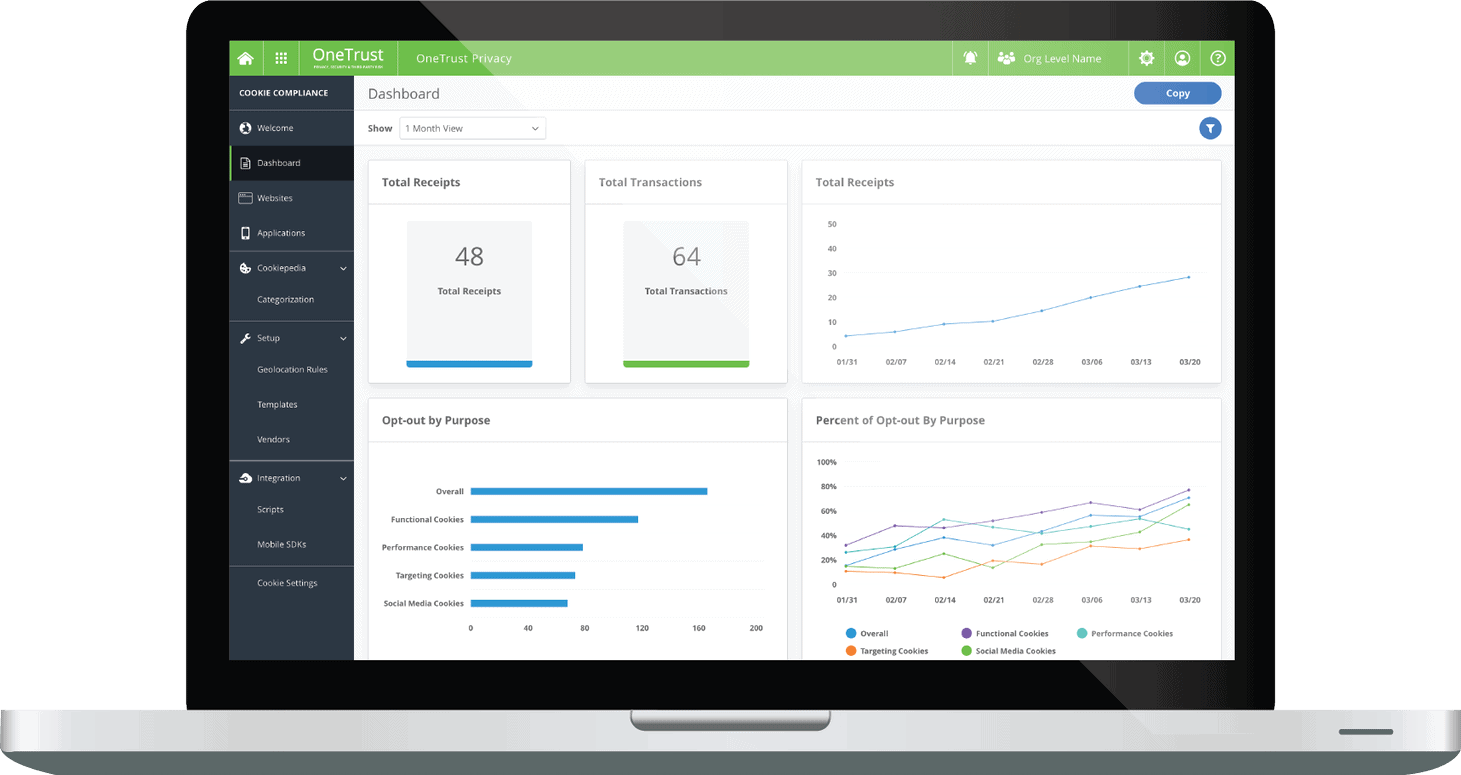 Ensure Compliance with GDPR, ePrivacy, CCPA and more with Minimal Technical Work
Leverage out-of-the-box templates and integrations purpose-built for changing privacy regulations
Compliance with GDPR, CCPA, ePrivacy, and 100s of other regulations with ongoing website & mobile app scanning
IAB-registered CMP with support for TCF v1.1 and v2.0
Support for IAB CCPA USP Consent String, DAA, and dozens of other ad tech frameworks
Built-in templates to customize out-of-the-box banners and notices to match your brand and voice
Web browser, mobile, AMP and OTT platforms supported
Low-code/no-code implementation with Auto-Blocking
Integration with Vendors, Internal and External Systems to honor Consent Preferences
Future-proof against new regulations, frameworks, and updates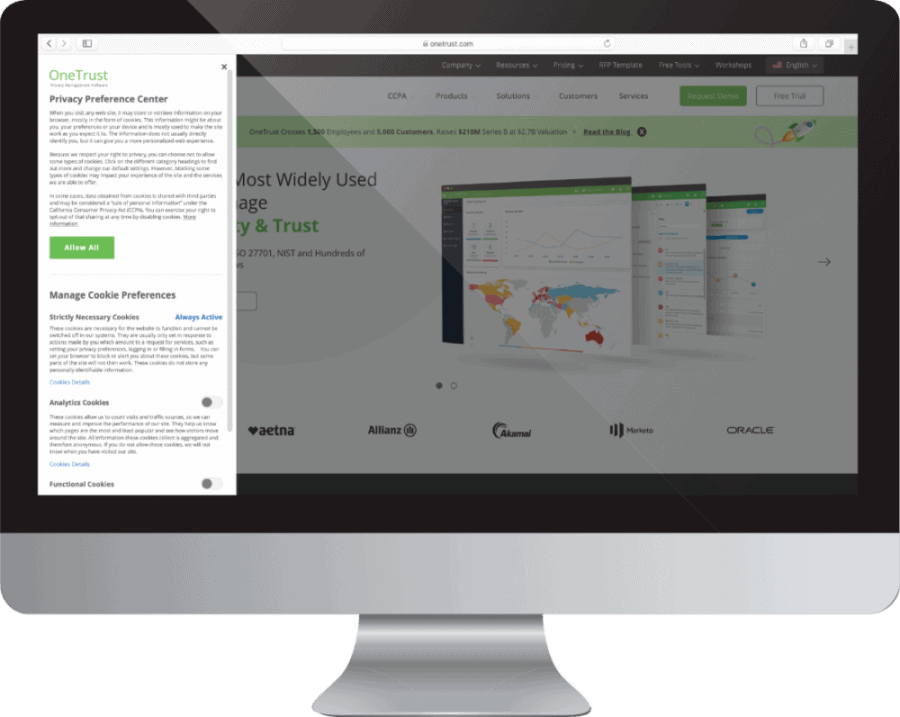 Build Trust with Customers to Prepare for the Removal of Third-Party Cookies
Leverage the leading CMP to comply today and future-proof your strategy for the next generation of the ad tech ecosystem
Capture first-party data directly from your customers to build trust and transparency
Segment audiences based on languages, regions and first-party user preferences
Manage consent for a single ID across devices for a better user experience
Build a privacy profile of each individual with an audit trail of behavioral preferences
Integrate with CRM, Marketing Automation Platforms, Customer Identity Platforms, and more