The Industry Leading CMP for Publishers
Audiences are increasingly interested in privacy protection but also expect personalized experiences. How can publishers deliver compliance, personalization, and privacy while capturing first-party data? OneTrust provides the leading CMP for Publishers to comply with GDPR, CCPA, and ePrivacy regulations, and frameworks from the IAB and DAA.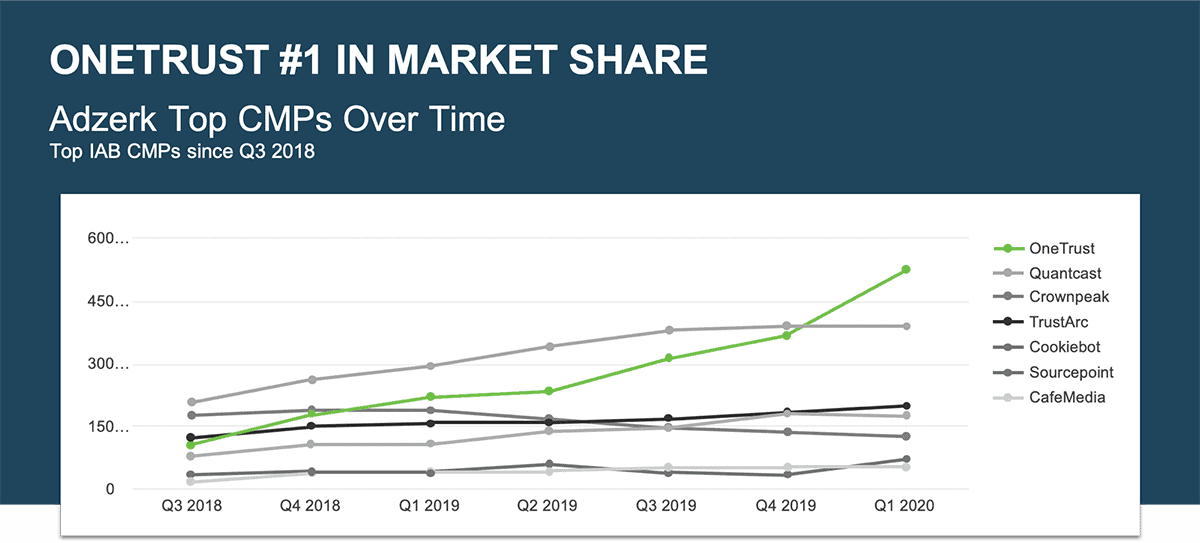 With

 OneTrust

 

PreferenceChoice

 CMP

,

 publishers can 

optimize consent rates while 

ensur

ing

 compliance

 with
global regulations and frameworks

, 

engaging with

 

customer

s

 

across web, mobile, OTT and offline channels.
Automate Global Compliance: Simplify compliance with CCPA, GDPR, ePrivacy, IAB Europe TCF v2.o, DAA AdChoices and 100s of others
Share signals: Sync with Salesforce DMP, IAB TCF, Google DFP / AdSense / AdX, Google Tag Manager, Adobe DTM and more
Protect your ad revenue: Support header bidding/pre-bidding and monetize content in new ways based on first-party data
Collect consent across audience touchpoints: Leverage consent notices, banners, emails and even offline collection
Centralize consent records across platforms: Support for web, mobile apps, OTT, AMP and offline consent and preference collection
Earn audience trust: Demonstrate transparency and empower your audience with tools to control their consent and preferences
Drive opt-ins and engagement: Track and analyze consent rates with pre-built, real-time dashboards and reporting, deploy A/B testing, and monitor to maximize opt-in rates
Integrate with existing tech stack: Protect investments with easy integration with Adobe Advertising Cloud, Facebook, FreeWheel, mParticle, Salesforce Audience Studio and more
Increase Opt-In Consent Rates to Drive Engagement and First-Party Data Capture
Empower your audience to control their privacy preferences using the leading end-to-end consent management solution
Performance racking to optimize monetization strategies in the age of compliance
A/B testing to maximize engagement, opt-ins and first-party data capture
Real-time analytics through dashboards and granular reporting for user insights
Just-in-time consent provides transparent collection and usage information as needed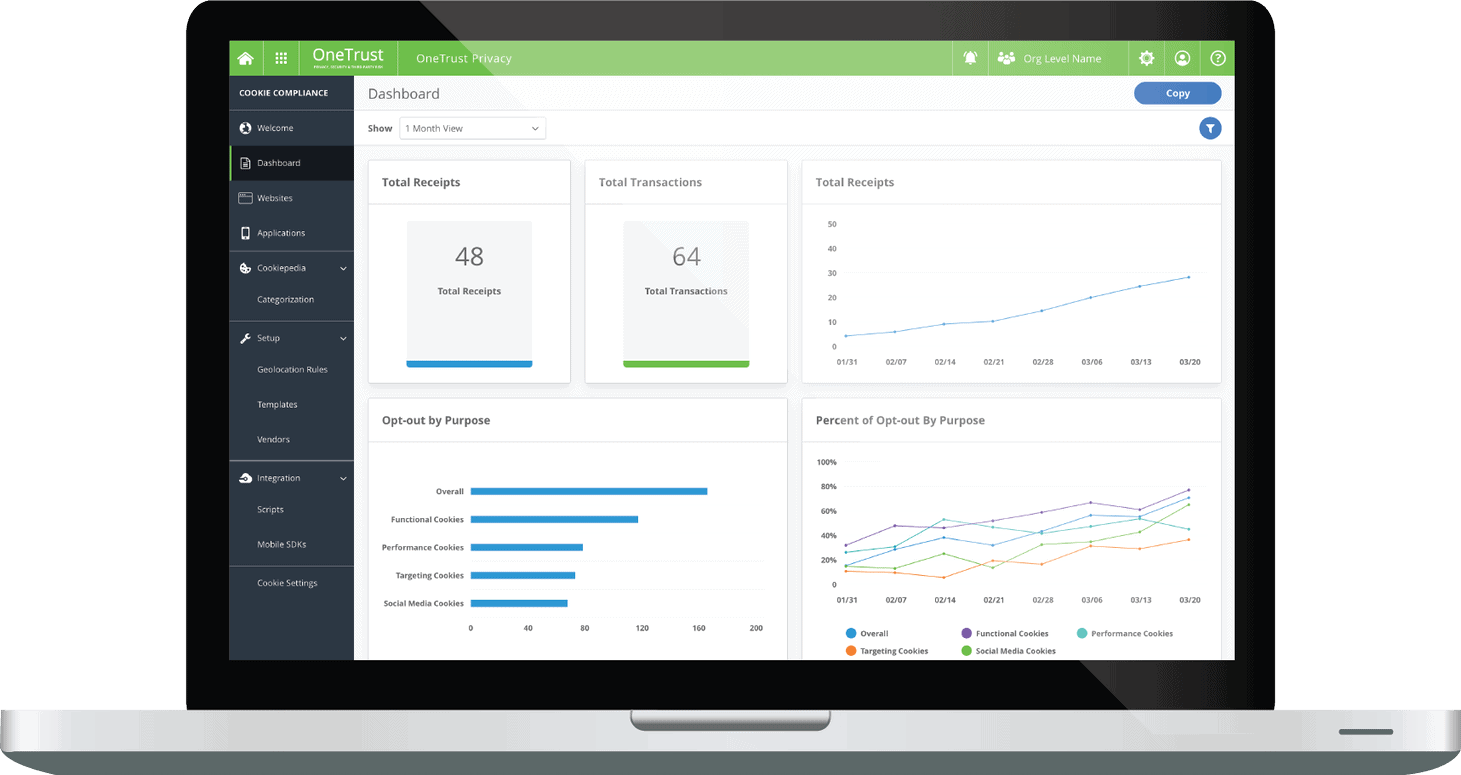 Ensure Compliance with GDPR, ePrivacy, CCPA and more with Minimal Technical Work
Leverage out-of-the-box templates and integrations purpose-built for changing privacy regulations
Compliance with GDPR, CCPA, ePrivacy, and 100s of other regulations with ongoing website & mobile app scanning
IAB-registered CMP with support for TCF v1.1 and v2.0
Support for IAB CCPA USP Consent String, DAA, and dozens of other ad tech frameworks
Built-in templates to customize out-of-the-box banners and notices to match your brand and voice
Web browser, mobile, AMP and OTT platforms supported
Low-code/no-code implementation with Auto-Blocking
Integration with Vendors, Internal and External Systems to honor Consent Preferences
Future-proof against new regulations, frameworks, and updates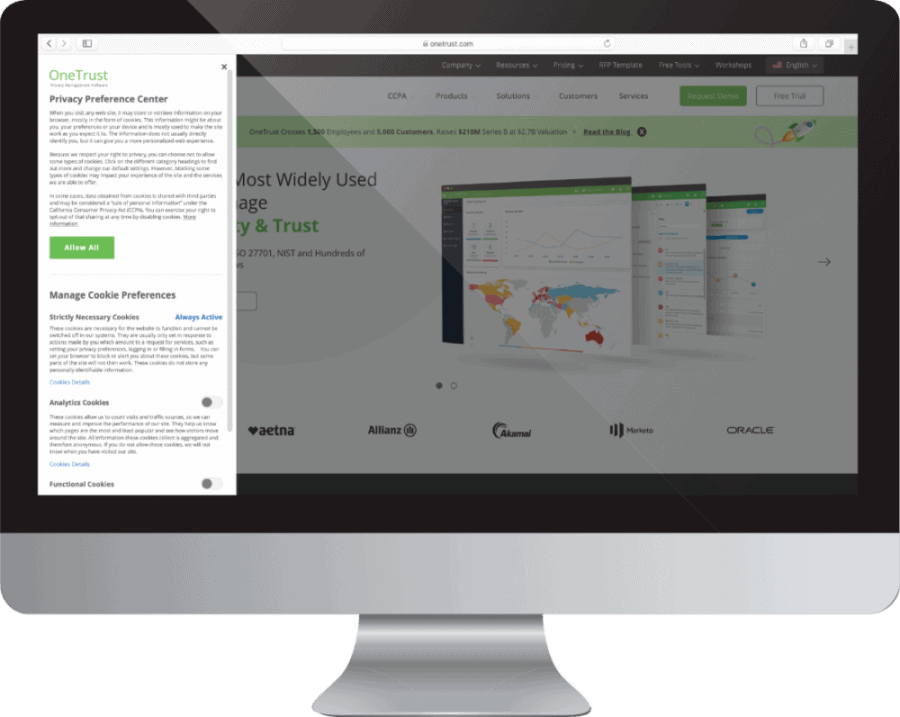 Build Trust with Customers to Prepare for the Removal of Third-Party Cookies
Leverage the leading CMP to comply today and future-proof your strategy for the next generation of the ad tech ecosystem
Capture first-party data directly from your customers to build trust and transparency
Segment audiences based on languages, regions and first-party user preferences
Manage consent for a single ID across devices for a better user experience
Build a privacy profile of each individual with an audit trail of behavioral preferences
Integrate with CRM, Marketing Automation Platforms, Customer Identity Platforms, and more