Technology Platform for Consent and Preference Management
OneTrust PreferenceChoice enables companies to drive opt-in demand while demonstrating compliance with 100s of global privacy regulations.
Protect your Marketable Universe
Build customer trust by being transparent with data usage.
Drive opt-in demand with granular preferences across channels.
Build detailed audit trails of engagements and opt-in/outs.
Adhere to 100's of global privacy regulations.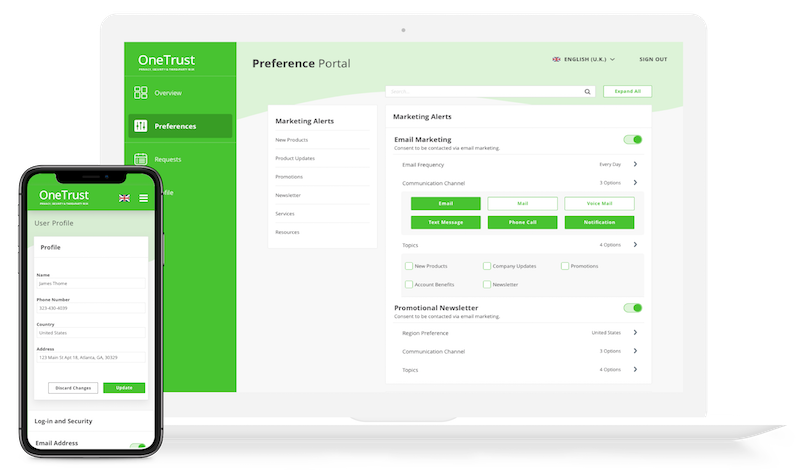 Deliver Personalized Campaigns While Respecting Consumer Privacy
OneTrust's PreferenceChoice enables companies to drive opt-in demand while demonstrating compliance with 100s of global privacy regulations. Businesses can implement advanced user interfaces and user experiences across their marketing and sales activities that collect user consent and preferences and sync them across channels for consistency. With OneTrust PreferenceChoice, companies are also able to scan for tracking technologies within websites and mobile apps, automate the fulfillment of consumer rights requests from a single portal, and centrally maintain historical consent records.
Integrations for OneTrust PreferenceChoice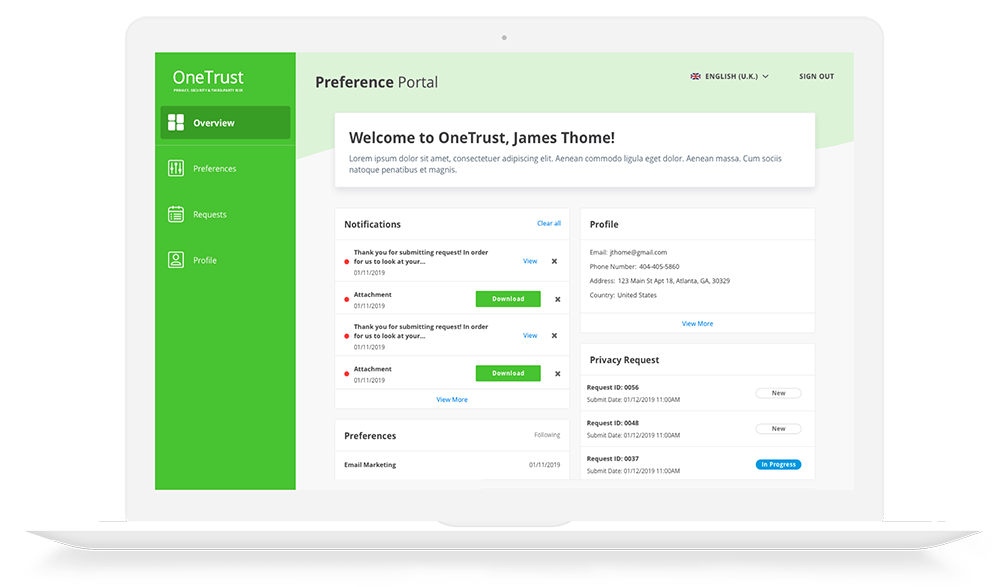 Integrate Omni-Channel Preference Centers and Detailed Consent Records
Create custom branded preference centers with advanced user interfaces to improve customer loyalty
Reduce global email unsubscribes by offering granular preference options including "opt-down"
Integrate OneTrust to maintain accurate preferences and consent details across other IT systems
Streamline internal and external audits with complete records of consent in a central database
Facilitate "Do Not Sell" or opt-out preference with a "Do Not Sell Personal Information" link for CCPA compliance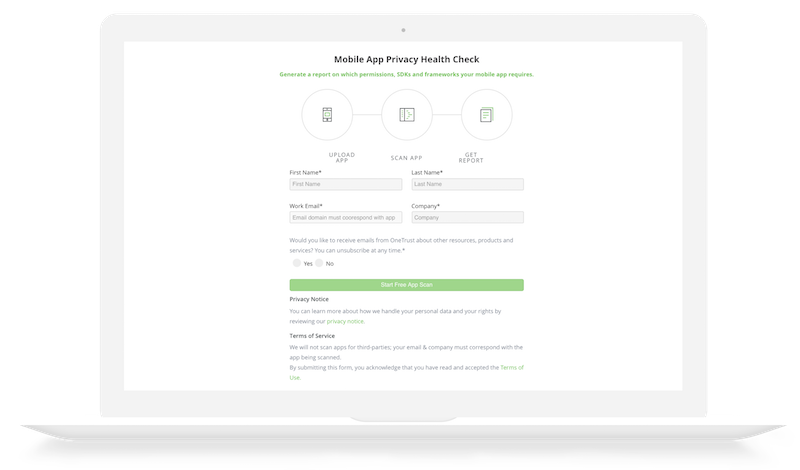 Scan Apps to Detect Where Data is Going and Manage Required Consent ​
Schedule scans of your mobile app for third-party trackers to understand your apps' "privacy health"
Customize your consent approaches and collect granular, valid consent including "just-in-time" consent options
Sync preferences with IT systems for consistency across sales, marketing and business activities
Eliminate data siloes using a central consent and preference database with detailed historical records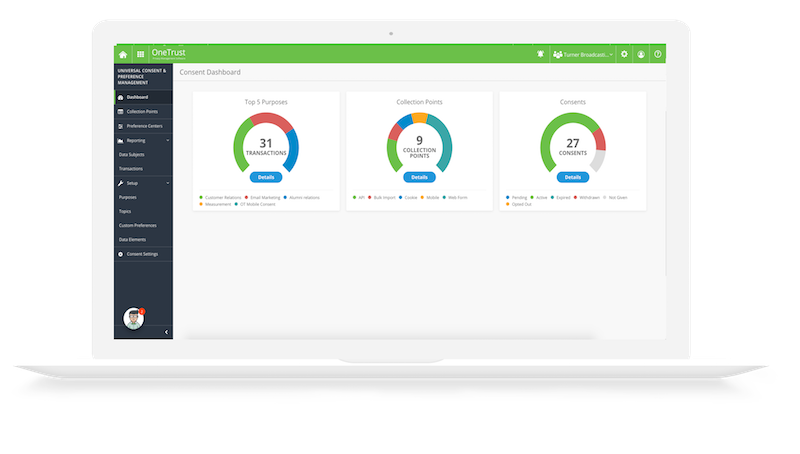 Scan your Website and Collect Consent with Custom Cookie Banner User Experiences
Scan your website against Cookiepedia, the world's largest database of 7 million pre-categorized cookies
Tailor your cookie banner and preference center and give users advanced control over their choices​
Generate detailed cookie lists and gain insights into behavior tracking technologies on your website
Build an audit trail of detailed records of consent and export visual reports for compliance purposes
Use geolocation to display different cookie banners and consent models based on the visitor's location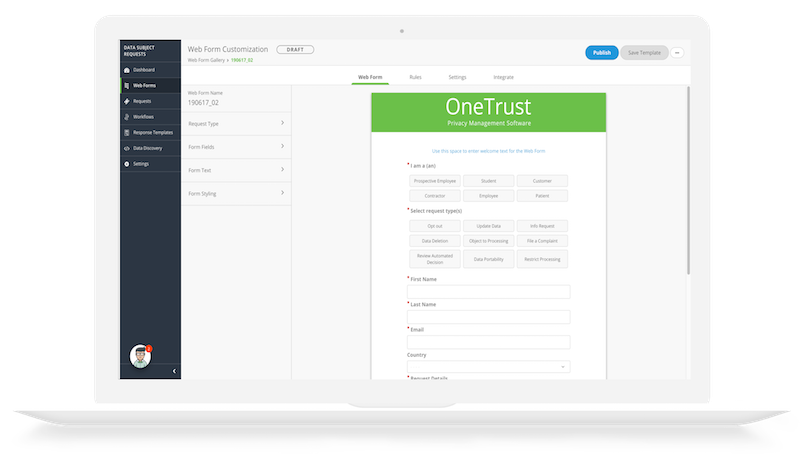 Automate Customer Rights Requests from Intake to Fulfillment to Reporting ​
Improve intake process by leveraging research-backed request templates or customize your own
Auto-assign tasks within your organization by using custom workflows to streamline fulfillment
Standardize identity validation and use identity to locate where and how personal data is processed
Communicate through a secure web portal while generating detailed records of communication
Leverage CCPA-specific response workflows to help your organization respond to requests appropriately
OneTrust PreferenceChoice Products
Drive opt-in demand, demonstrate compliance and protect your marketable universe.
POLICY & NOTICE MANAGEMENT
Track centrally and dynamically update across website and apps
CONSENT & PREFERENCES
Integrate a central preference center to marketing apps with detailed consent records
MOBILE APP COMPLIANCE
Scan apps to detect where data is going and manage required consent
TARGETED DATA DISCOVERY
Integrate business apps for access, deletion and portability
COOKIE COMPLIANCE
Scan website and generate consent banner and preference center
CONSUMER RIGHTS REQUESTS
Automate the full lifecycle from intake to fulfillment to reporting