January 28, 2022
Your Guide to Celebrating Data Privacy Day
Learn more about Data Privacy Day and celebrate with OneTrust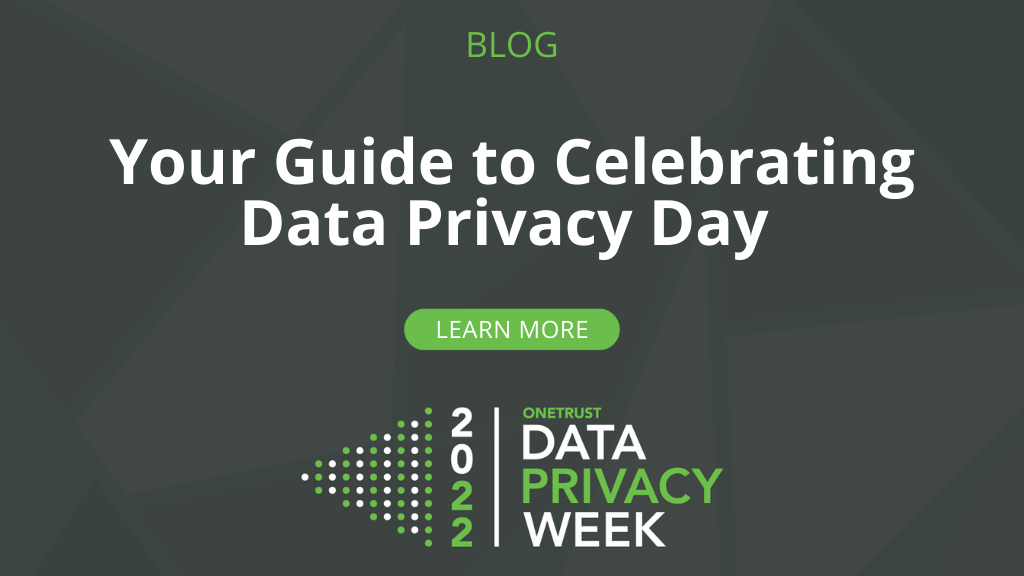 January 28. The day Jane Austen's Pride and Prejudice was first published in the United Kingdom. The date Elvis Presley made his first national television appearance in the United States. And most importantly for readers of this blog, January 28 is Data Privacy Day, the international day to empower people and businesses to respect privacy and build trust.  
But what is Data Privacy Day? How can you celebrate it? And what can you do to look after your personal information online? 
What is Data Privacy Day?
Data Privacy Day occurs annually on January 28. In recent years, people and companies have expanded the day to a full week of events. In 2022, Data Privacy Week (as it's now commonly known) occurs January 24-28, 2022. 
The annual celebration of all things privacy and data protection was first introduced by the Council of Europe on April 26, 2006. It is celebrated on January 28 each year to commemorate Convention 108 – the first legally binding international treaty on data protection signed in 1981.  
The landscape of global privacy laws has changed markedly since the inception of Data Privacy Day back in 2007. Comprehensive laws such as the GDPR, CCPA, and LGPD place strict requirements on businesses and grant new rights to individuals. Data Privacy Day represents an opportunity for organizations and individuals to raise awareness of privacy and data protection, to evangelize best practices, and to discuss why privacy matters. 
How Can I Celebrate Data Privacy Day?
There really isn't one single way to celebrate Data Privacy Day but it is important that we all take a moment to recognize its significance and why privacy matters. For example, you might want to take just five minutes out of your day to read an article about what it really means when you 'accept cookies'. Perhaps you want to spend some time on YouTube watching some privacy explainer videos or you really want to understand what 'legitimate interest' means.   
Lucky for you, we've put together the how-to guide for celebrating Data Privacy Day – including an email template to educate your stakeholders, facts about the day, and steps to protect your own privacy – available to download right here or read more below. You can also download our Data Privacy Day Digital Swag Bag that includes a Zoom background, "I'm Celebrating Data Privacy Week" social post, LinkedIn header, desktop and phone backgrounds, and Privacy & Security office reminders.
Download the Ultimate Guide to Celebrate Data Privacy Day
For organizations, Data Privacy Day can be a great opportunity to educate employees about the measures that are taken to ensure personal information is kept safe. It could also be a great moment to host a workshop explaining some best practices when it comes to protecting your own privacy. Or you may want to share some of the great work your privacy team has been doing to your customer base through an infographic or social media post.   
And, if you're stuck for inspiration here are some more ways you can celebrate Data Privacy Day:  
Host an online event –

This can be a great way for you to discuss what privacy means to your organization and show off to your customers and stakeholders that you take privacy seriously. You could also watch OneTrust's LinkedIn Live events – How to Grow Your Privacy Career and Privacy: The Common Denominator in Building Trust. 

Organize a privacy-related quiz –

Looking to get friends or colleagues involved in some fun and engaging activities that will also educate them about privacy? Well, a short quiz is usually a pretty safe bet – especially if you're offering a prize. Alternatively, you could simply share some interesting privacy trivia through email or instant messenger. The OneTrust Data Privacy Day Kit contains plenty of information to get you started and is linked at the bottom of this blog.

 

Educate yourself –

Benjamin Franklin once said, "an investment in knowledge pays the best interest." Spending some time to get up to date with current privacy trends and hot topics might equip you with the thought-provoking knowledge you need to keep the conversation going. Which is especially critical now that we need to brush the cobwebs off our watercooler icebreakers. The OneTrust blog is a good place to start and is a great resource for news and informative articles on privacy best practices.

 
What Can I Do to Protect My Own Online Privacy?
At OneTrust we often talk about how we help organizations become more trusted through operationalizing privacy best practices and ensuring personal information is protected to the highest standard. However, there are some very simple things that you, as an individual, can do to take control of your own online privacy. Here are a few examples:  
Clear your cookies –

We've all clicked 'accept cookies' without really knowing what it means. Let's face it, nothing was going to stop you checking out that up to 75% off January sale. But did you ever think it was strange that you kept seeing ads for that company months later? Regularly clearing cookies from your browser will remove certain pieces of information that have been placed on your device, often for advertising purposes. However, cookies can also pose a security risk as these files can be easily hijacked by hackers. 

 

Know your rights

– Many of today's privacy laws offer individuals a set of rights to help control how their personal information is used by businesses. Many laws will allow you to request that businesses supply you with a record of all the personal information they have that relates to you. In many cases, you can even request that they delete this data. These rights typically vary depending on what part of the world you are in so it is worth understanding which rights apply to you and how you can exercise them. 

 

Try privacy-protecting browsers

– Looking after your online privacy can feel a little bit complicated but thankfully there are certain internet browsers that make the task a little bit easier. Many top browsers are deprecating third-party cookies and have strong privacy settings in place by default. Changing browsers is a simple change but can be very effective for looking after your privacy.  

 

Manage your passwords –

Password123 won't cut it. Try using a smart password that incorporates uppercase, lowercase, numbers, and symbols. This will make it much harder for hackers to guess your password. And if remembering all those complex passwords seems like it's too much of a headache for you, try a trusted password manager. 

 
Download the full list: 15 Ways to Protect Your Own Privacy 
Get All Our Data Privacy Day Resources:
Follow OneTrust on LinkedIn, Twitter, or YouTube for the latest on data privacy around the world. 
Tags: