Fast Facts
---
Customer Name
Privacy Program Management, Copenhagen
Size
SME
Industry
Consulting and IT Services
Region
Key Regulations
Products
Download PDF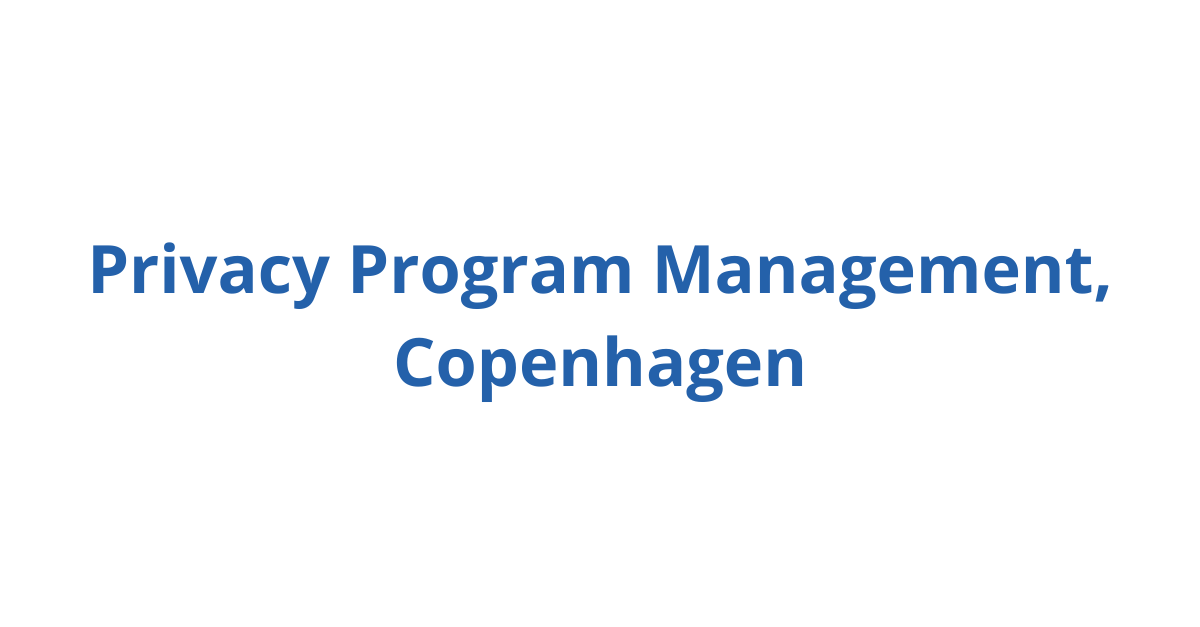 Privacy Program Management Copenhagen Consults OneTrust DataGuidance for Credible Privacy Research
---
Privacy Program Management Copenhagen is an independent privacy program management consultancy based in Copenhagen that works closely with global brands on a range of projects from establishing privacy programs on an operational level to refreshing and updating existing programs. Alongside his role as an independent consultant, Tim Clements, Business Owner of Privacy Program Management, Copenhagen, is a member of IAPP's Faculty, delivering their privacy certification courses to delegates at IAPP events and conferences. This combination means that Tim needs a single source of reliable information to help him keep up to date with the various laws applicable to his clients and students alike.
I have always had that good relationship with OneTrust, so when DataGuidance became available it was only a matter of time before I became interested.

Tim Clements

Founder
A One-Stop-Shop for Reliable Information 
Much of Tim's work is centered around developing a strategy for privacy and data protection activities that align with the business strategies of the companies he advises. Tim's work with multinational companies sees him instilling the idea of data protection functions as business enablers, particularly for data-driven companies. As no two privacy programs or business strategies are the same, it is essential Tim and Privacy Program Management Copenhagen has a privacy research tool that not only covers a vast cross-section of jurisdictions but is also a credible and reliable source of information.  
Making sense and establishing context in the rapid developments in legislation and technology has been helped by a tool such as OneTrust DataGuidance – a trusted repository.

Tim Clements

Founder
As an IAPP Trainer, Tim needs to have a tool that can help him keep up to date with major privacy developments across the world to ensure his training is informed beyond what is expected. Tim selected DataGuidance due to the wealth of information that is cataloged on the platform and that provides a single, reliable source of information. 
A Resource Full of Personalizations 
OneTrust offers levels of personalization that allow Tim to build unique programs for each of his customers, and through DataGuidance Tim is able to tailor daily news updates to the regions or sectors that matter to his clients. Through engaging with OneTrust, Tim found the willingness to listen to his individual needs helped to create an even deeper level of personalization to how he uses OneTrust products.  
I think an advantage of OneTrust is that they listen, and they actively engage with their clients to get the feedback. I've followed OneTrust since it started and have seen my own requirements come to life in core OneTrust functionality.

Tim Clements

Founder
Tim relies on OneTrust DataGuidance to keep on top of privacy and data protection laws and with the platform being constantly updated, covering over 300 jurisdictions with source material, insight, and webinars, everything can be found through one source. "What I like about DataGuidance is being able to access knowledge and insights in one place and the extremely helpful and attentive team who actively engage, listen, and follow up," Tim explained. 
Resources Beyond the Research Software 
In addition to the high quality and up–to–date content, OneTrust DataGuidance also offers a range of reports including the "GDPR versus" comparison series and Quarterly Privacy Reviews that are available for download or as physical copies. Tim finds this range of materials to be an added source of value for himself and Privacy Program Management Copenhagen clients. In particular, Tim likes the bi-monthly publication of Data Protection Leader magazine that comes included with the OneTrust DataGuidance subscription and likes the quality of the content and materials.  
Whenever I have been to a conference, I like to get my hands on a physical copy of the GDPR comparison reports. They are always nice for me to hand these across to a client. It's a tangible thing to have and it gives quite a lot of value to my clients.

Tim Clements

Founder
Tim also finds value from the different areas of the OneTrust DataGuidance platform such as the Video Hub. In particular, Tim highlights the Thought Leaders in Privacy interviews that are filmed with privacy professionals across a range of conferences worldwide. The series delivers different perceptions of privacy trends from Data Protection Officers, to private practice lawyers which Tim finds have helpful takeaways that can be applied to his own work.   
Through the use of DataGuidance Tim finds that have a single, reliable source for privacy research has helped to reduce the effort he has previously had to put in, as well as helping to add a level of credibility to his work and an independent consultant and IAPP Faculty member.