February 22, 2022
2022 Modernizing Marketing Strategy Series: Data Activation
In the Final Blog of our Oracle and OneTrust Modern Marketing Strategy Series, we Look at Data Activation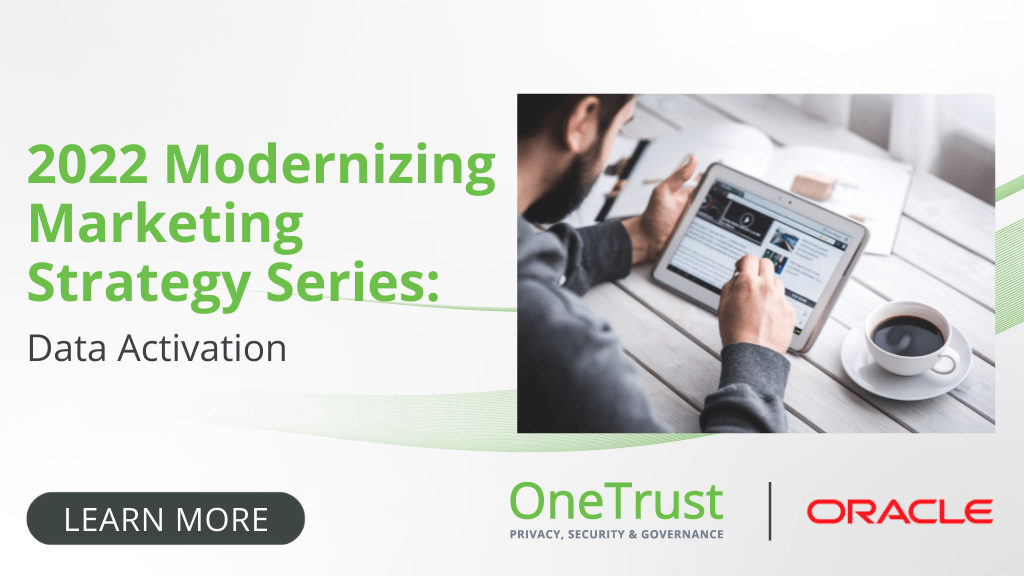 It's officially a new year, and typically with it comes all sorts of predictions about what's to come in the year ahead. Without having to stare too deeply into my crystal ball, I'd wager that looking ahead this year the privacy and personalization worlds will continue to blend. Consumers will continue to prioritize their privacy (and brands that proactively do too), new data privacy laws will be passed across the globe, and existing privacy laws will continue to be adapted. As these three drivers of change continue forward, privacy isn't just a discussion about avoiding financial repercussions anymore, but also the arguably costlier impact of diminishing consumers' trust and lifetime brand relationship
While the industry has been talking about increasing privacy regulations and consumers desire for greater control over their privacy for a long time, getting all of right (and optimized into the customer experience) is still a moving target for many brands. While change will likely remain the only constant in the world of CX and data privacy, the challenge consumers have issued to brands is to show that they care by giving clear and transparent privacy preferences and engaging in the ways that they want them to. If organizations can achieve a balance of privacy and personalization, it can turn into a huge advantage. Research by Accenture shows that 88% of consumers say companies that provide personalized experiences without compromising their trust are more appealing and can relate to their needs better than others.
In this blog, we'll talk about three things marketers and privacy professionals can keep in mind while trying to strike this balance of privacy and personalization this year amidst what's sure to be more changes on the way. I'll also focus on two key technologies that can work together to support your brand's privacy and customer experience efforts. Specifically, Consent Management Platforms (CMPs) and Customer Data Platforms (CDPs) and how they can help you build a data foundation to power your efforts in powering privacy-centric personalization. Let's jump in! 
1. Privacy and Consent is the Foundation
Your ability to honor privacy preferences as a part of your CX strategy relies on the quality of the data you have access to. 
With all the heightened regulation and policy around consumer privacy and data transparency, if you don't have a way to protect and govern customer information – like being able to readily remove non-compliant data and centralize your consumer consent preferences, you aren't going to be able to do anything with the data you have because you don't know what is compliant to use.
You are not alone if your organization struggles with making sure the right privacy controls are in place.  According to Forrester 40% of brands struggle with this. In a world where not asking (or giving the options) for data privacy preferences on the website is becoming extinct, a  Consent Management Platform (CMP) serves as front-line software to manage data privacy preferences.
Even the brands that do have consent and privacy prompts in place may not have a thoughtful strategy about how to best place privacy prompts at the right time and in the right context. Accenture found that customers are more likely to share data about themselves with a brand when they know how it's being used. That makes it critical for brands to be transparent, use simple and straight forward language and focus on value exchange (ie. "how will giving you this info help my experience?") in order to build trust and get the right data that's needed to drive great experiences. 
The good news is that there are solutions out there, like OneTrust, that specialize in user privacy and consent and help you make sure you have this strong foundation in place. With the addition of first-party data to consent and preference management, brands can use one powerful platform to capture, centralize, govern, and sync data while keeping trust and transparency at the forefront of all consumer interactions.  
OneTrust CMP is the most widely used solution for capturing and managing consent on web, mobile, and CTV applications. Through OneTrust's CMP, companies can collect, manage and maximize consent opt-ins, while automating global compliance with CCPA, GDPR, ePrivacy, IAB TCF 2.0, DAA AdChoices and other laws and frameworks. OneTrust Preference Management enables businesses to give consumers greater control and visibility over their communication preferences. Collect preferences and first-party data with transparency for users, centralize data for a single source of truth, and sync data throughout the marketing and tech stack to execute ethical marketing and sales activities. 
Additionally, you want a reputable Customer Data Platform (CDP) vendor that is proactively talking about privacy and consent and can ensure there are solutions in place, built in and through partnerships with OneTrust.
2. Privacy as a Critical Component of Your Single Customer View
Now that we've touched on privacy and consent, let's talk about how to go about managing that data as a part of a comprehensive customer view.
The key to delivering on privacy and personalization for each customer depends on the ability to manage and orchestrate those preferences dynamically across the customer journey. As consent and preferences are collected across multiple channels and across a variety of different devices, they need to be unified into a single customer view where those preferences can be managed alongside other critical customer information like IDs, critical back to front office data as well as first, second and third-party data sources.
This is where a CDP comes in. Customer Data Platforms play a key part in customer data management by combining multiple sources of offline and online customer data into a dynamic, singular customer profile, allowing for an improved view of the customer to drive better marketing/CX and increase business agility. Data privacy practitioners should also want a single view of their customer data across every channel to more easily comply with emerging privacy regulations. 
 3. Balancing Personalization and Privacy Across Channels
With your customer data cleansed and combined into a single customer view, CDPs can take an active role in ensuring privacy preferences are met and honored throughout all channels by helping manage the enrichment, activation, governance, and erasure of customer profiles over time. Customer Data Platforms can also help govern which technologies in the martech and AdTech stack receive consumer datasets, and even more importantly, can send only the necessary volume of data that other technology destinations require, assuring the business that consumer data is being used on a "need to know" basis. This ultimately results in brands not only being able to more easily understand privacy choices made by each individual customer but also honor them across multiple different channels.
As a side benefit, privacy offices can also more easily respond to Data Subject Access Requests (DSARs) by leveraging the CDP to understand what customer data is being collected, how it's being managed and what activation destinations those are going to. 
Oracle Unity Customer Data Platform helps brands combine customer data from online, offline, and third-party sources to create a single, dynamic, real-time view of each customer. These, unified, real-time customer profiles (and subsequently the audiences and segments built from those profiles) can become critical in how your brand ensures privacy preferences are orchestrated across channels in order to strike the balance of a customer's personalization and privacy needs.
Conclusion
As data privacy makes its way further into the heart of personalization and customer experience, the right technology, in addition to approach privacy and customer experience as a team sport, can help brands continue to show their customers they care and build lifetime value. The first step is ensuring the right foundation is in place to not only collect privacy preferences but also uphold them throughout a customer's journey (wherever and whenever they may want to engage). 

Read the Full Modernizing Marketing Series: