July 22, 2022
How Marketers are Bolstering Earned Data Strategies with OneTrust
Cultivate trusted customer relationships with optimized and reliable earned data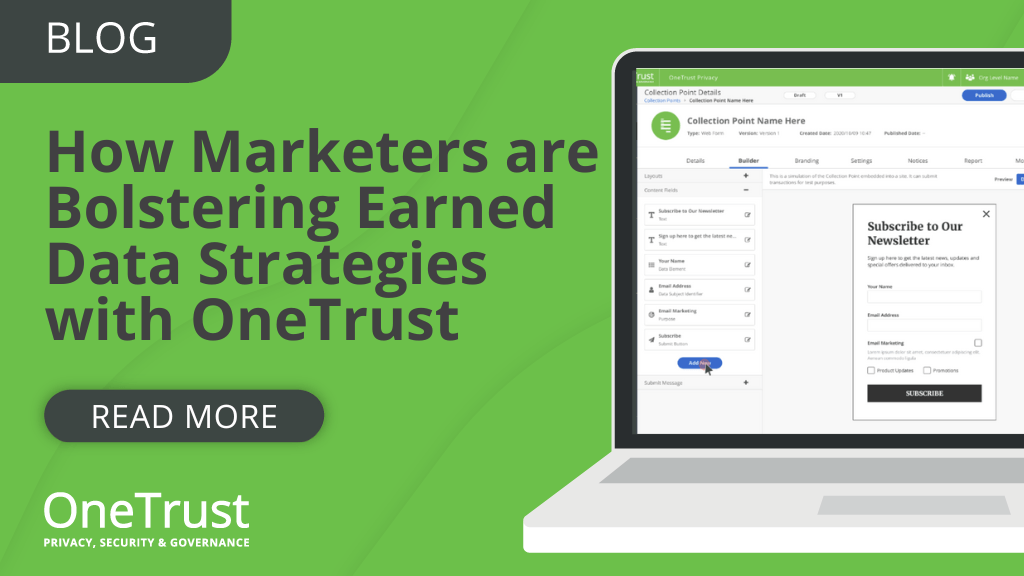 As regulatory and technical landscapes evolve and third-party cookies deprecate, leading marketers are strengthening their digital strategy with earned data. This type of data includes zero and first-party data and is the key to delivering powerful campaigns that yield results, improve ROI, and honor privacy. 
What makes earned data special?
First-party data is data collected by your organization directly from your customers. This data is usually collected through website activity, purchase history, product interactions, and email or SMS engagement.  
Zero-party data is data that is willingly submitted or shared by your customers through a form, email, or SMS. This data is generally more qualitative and descriptive in nature. 
As earned data is a combination of both, it provides a complete picture of your customer. You receive data on how your customer interacts with your website along with detailed information on what products hold their interest. 
This is why your organization needs to invest in building functionality that enables marketing teams to use earned data as their core engine and prepare for the big cookieless reset. Marketing teams can collect fuller and richer data to build progressive relationships grounded in privacy roots, not gleaned from third-party behavior monitoring but rather from trusted relationships built over time.  
With the shift towards trust transformation focused on data transparency and control, earned data captured directly from consumers will be the most valuable.  
Easily execute sophisticated web forms to collect earned data 
To enable marketers, OneTrust helps teams configure earned data collection points using a CMP, preference center, and now web forms that can be directly embedded on websites.  
The web forms include the following features: 
Customized to fit the look and feel of your brand

 

Design elements, including brand colors, appropriate brand tone

 

Choose your consent approach for the web form

 

Choose its position on the webpage

 

Swift deployment with a snippet of code 

 

Can be used to deploy on multiple pages and in multiple languages

 
Once consented data has been collected, it's centralized within OneTrust, allowing marketers to stitch datasets together and orchestrate consent to third-party systems. Automate data governance and compliance by implementing configurable rules for earned data across marketing platforms.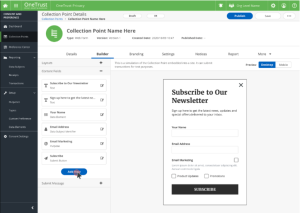 Turn earned data into your ultimate competitive edge 
OneTrust Consent and Preferences is empowering marketing teams with robust technology to evolve from ineffective data overload to a high-quality marketable database. 
Configure Customized Experiences
Design and deploy a transparent front-end customer experience with customizable collection points and preference centers that set up granular logic to capture data at the right time. 
Personalize Campaigns
Deliver the content, products, services, and offers that are most relevant to audience segments. 
Future-Proof Data Sources
Enhance customer profiles with earned data and begin to replace other data sources like third-party cookies. Customers can also easily update data through a self-service preference center.   
Centralize Consented Data
Create a single source of trust for all systems, provide transparency for customers and centralize your proof-of marketing compliance by storing customer consent, first-party, and earned data.  
Automate Consent Orchestration
Sync real-time, reliable first-party and earned data to your MarTech stack to ensure accuracy and permission-based remarketing and retargeting.  
As we prepare for the demise of third-party cookies, check out our Cookieless World Toolkit to learn more about how your organization can adapt effectively.  

Tags: