April 5, 2022
The Essential Role of Marketing in Your Company's Privacy Strategy
Forrester Privacy & Marketing Analyst, Stephanie Liu, talks about marketing in a data privacy world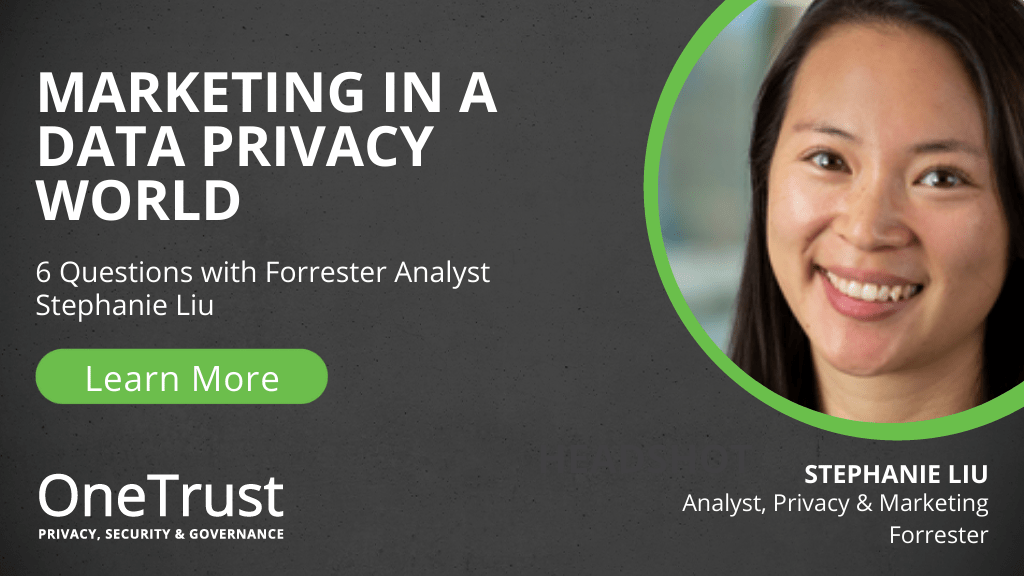 Marketing has taken to the digital age like few other departments, with new technologies and platforms allowing marketers to reach increasingly specific touchpoints in a potential customer's journey.
The world of data privacy is starting to catch up to this wave, and a host of privacy regulations have gone into effect across the world (GDPR in Europe, CCPA & CPRA in California, LGPD in Brazil, PIPL in China, PDPA in Thailand).
These regulations specifically touch upon consumer rights regarding digital marketing; their right to consent and withdraw consent as well as ensuring that marketing promotions require an opt-in from the consumer and not a passive opt-out.
With consumers being more aware of the privacy landscape and their rights regarding their data and consent, instilling a sense of trust in consumers around your company's marketing strategy has become more important than ever.
Marketers are also challenged by changes being made to major tech platforms, including Google deprecating third-party cookies in 2023. The demise will impact the landscape for digital advertising which currently relies extensively on third-party cookie data for tracking and personalization.
Along with privacy and tech changes, the surge in online interactions has escalated expectations—giving consumers more exposure to the personalization practices of marketing leaders and raising the bar for personalized experiences. From web to mobile and in-person interactions, consumers now view personalization as the default standard for engagement.
We sat down with Stephanie Liu, an Analyst in Privacy & Marketing at Forrester, for a webinar to talk about the role of marketing in a company's privacy strategy and vice-versa.
Then, we kept her for a Q&A to dive deeper into the world of marketing and privacy.
1. How should CMOs and marketing leaders engage with their privacy, legal, and technology teams to bake ethics and trust into their marketing strategy?
Stephanie: Marketers must pull up a seat at the privacy roundtable and be active participants in their company's privacy program.
The benefits are twofold: First, marketers serve a critical role of representing the customer in privacy discussions, helping ensure customer-facing interactions are designed not just with compliance in mind, but also trust and transparency.
Second, marketers can avoid being blindsided – in 2018, I got panicked calls from marketers whose security team said they were no longer allowed to use a marketing or advertising tool in light of the GDPR.
Being an active participant reduces the risk of surprise, whether that's being told you can't use a tool or having a customer experience be disrupted by clunky legal disclaimers.
2. As marketers face the ever-changing privacy and technology landscape, what advice can you offer to help brands build trust and provide personalized experiences?
Stephanie: It's important to remember what has led to the current state of data deprecation. Brands have creeped out customers with ads that follow them across the internet or targeting that is so accurate that consumers think Facebook has hacked their microphones.
A few years ago, a OneTrust employee told me about how he started shopping for engagement rings, but when his girlfriend was inundated with ring ads, the surprise was ruined. As marketers strive toward the amorphous goal of "personalization", they need to ensure they're doing so with their customers' best interests in mind, and in a way that's much more transparent than the covert tracking mechanisms we've used historically.
One way of achieving this is to ask a customer to volunteer zero-party data, and then use that input to drive personalization decisions instead of making inferences or assumptions.
3. How are website owners and app owners pivoting their data strategy to prepare for the deprecation of third-party cookies?
Stephanie: Brands are putting a huge emphasis on capturing first- and zero-party data to stave off the death of the third-party cookie.
And while it's an understandable strategy, many conversations I'm having with marketers are driven by fear, uncertainty, and doubt – they're trying to capture email addresses or phone numbers quickly to grow their databases.
That approach is leading to subpar customer experiences; I've seen websites across all industries creating pop-ups or page takeover windows that ask you to create an account or hand over your data.
4. What are the benefits of building a first-party data strategy?
Stephanie: A first-party data strategy can help businesses comply with existing regulations, future-proof as regulations change, and reduce risk.
Relying on third-party data sources introduces risks that could impact everything from data quality to the brand's reputation. By focusing on first-party data strategies, companies have more control over data collection, consent capture, and managing the entirety of the data lifecycle.
Ultimately, that enables them to make informed and efficient decisions when faced with an ever-changing landscape of privacy expectations and regulations, with the added bonus of reducing third-party data licensing costs.
5. How can companies enhance their first-party data strategy to help capture more data, while being mindful of the consumer experience?
Stephanie: When asking customers to share more information about themselves, brands must give a clear value exchange and be transparent about why they want that data.
Forrester's data shows consumer privacy awareness has been growing over the last few years, so if a company is going to ask a customer to share their data, there needs to be something in it for them.
That value can take the form of loyalty program perks, personalized content or experiences, or exclusive offers, to name a few. Another important tactic is to limit the ask to data points the brand can actively use to improve a customer's experience.
If the ask is overreaching, customers will be less inclined to share their data – think of when an app asks to access your location, but you don't understand why they'd need that data. In many cases, consumers won't share that data because they don't understand the purpose.
6. What are the best examples of first-party data that marketers value and can use?
Stephanie: The data that marketers find valuable will depend on their industry, business, and goals – which is why it's so important for brands to think critically about what data they need.
For example, I've seen many product quizzes from the beauty industry that ask for data points that brands can't infer or buy – such as your skin tone or skin concerns – that will directly and immediately improve product recommendations.
Companies whose products have longer buying cycles, like B2B technologies, baby products, or cars, could benefit by asking where in the buying cycle a prospect is and use that input to tailor content and customer journeys.
To view the full webinar featuring Forrester analyst Stephanie Liu, click here!
Tags: