Today is a monumental day for the OneTrust team and privacy industry at large. We are excited to announce the closing of a $200 million Series A investment led by Insight Partners, valuing OneTrust at $1.3 billion.
The funding will help further drive OneTrust's growth and product development, specifically to address the CCPA. Hear more from our OneTrust leadership team:
Learn more in our webinar: OneTrust Vision & Strategy Update, hosted by CEO Kabir Barday, on Tuesday, July 15 at 1:00pm ET
Companies are facing major challenges working to comply with the complex and changing list of privacy and security laws and frameworks, like the GDPR, California Consumer Privacy Act, ISO27001. OneTrust was purpose-built to address these challenges with our three main product offerings:
OneTrust Privacy Management Software: Helping organizations map and assess their data collection processes, respond to incidents, and automatically generate compliance reporting for any privacy law.
OneTrust PreferenceChoice™: Consent and preference management software to help marketers provide transparency and choice in their customer engagement efforts.
OneTrust Vendorpedia™: Vendor and Third-party risk management software and vendor risk exchange to help security, risk, and procurement professionals know that their vendors are safe to do business with.
OneTrust has achieved massive growth in just three years in business, scaling to 3,000 customers in 100 countries with a team of 1,000 employees across 8 global locations. Our technology is powered by 50+ patents (and 50+ more on the way) and intelligence from OneTrust DataGuidance, updated daily by 40 in-house privacy researchers and a network of 500 lawyers across 300 jurisdictions.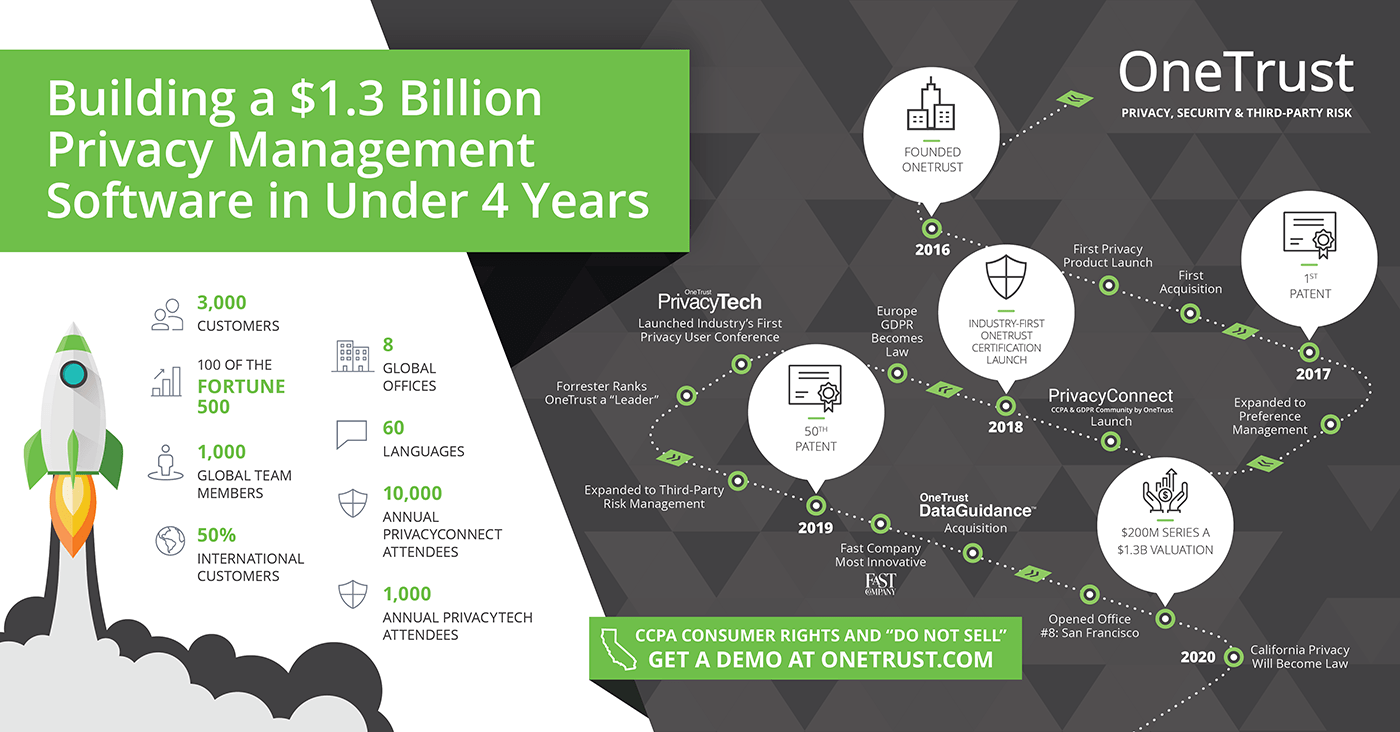 To learn more about what's next for us at OneTrust, so be sure to sign up for the webinar hosted by our CEO Kabir Barday on Tuesday, July 16th at 1pm ET and learn more about our growth, product features and vision for the future.
We also want to set you up for CCPA success, so sign up for our CCPA Master Class series, starting next week. We'll dive deep into several areas of the CCPA, including:
Consumer Rights
Do Not Sell
Identity Verification
Targeted Data Discovery
Data Mapping
Website Compliance
Vendor Management
If you're new to OneTrust, there's no better time than now to join our journey. Learn more on our website or request a demo today!