August 11, 2022
Your Ultimate Guide to Careers at OneTrust
Don't just take our word for it, see why our employees voted OneTrust a certified Great Place to Work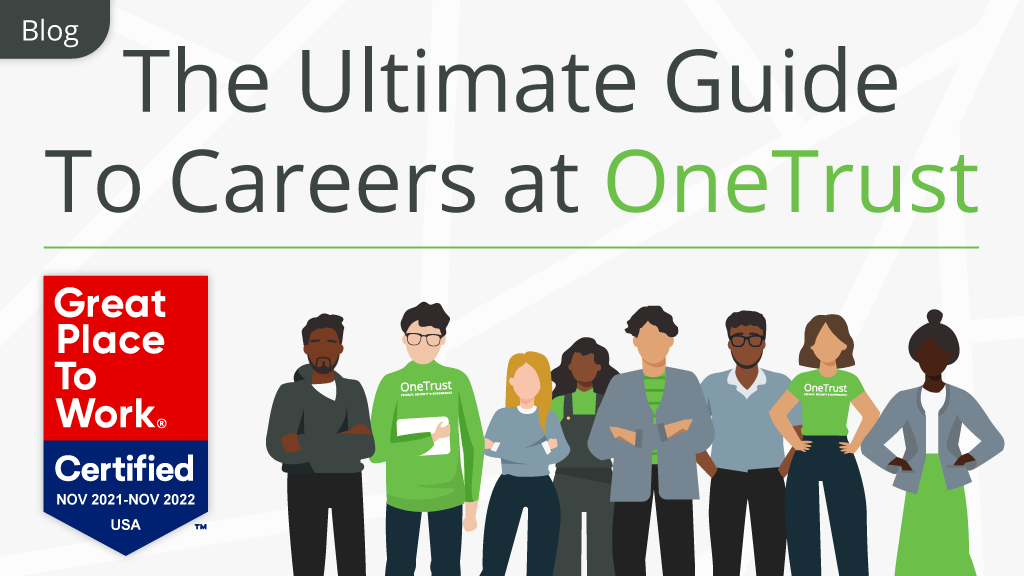 Update as of 8/11/22 – OneTrust is now a certified Great Place to Work® (USA)! The certification process is based on direct feedback from employees, provided as part of an extensive and anonymous survey about the workplace experience.
In fact, 93% of our US-based employees ranked OneTrust as a great place to work, with other notable callouts about our workplace culture including:
This is a physically safe place to work (99%)
People here are treated fairly regardless of their sexual orientation (99%)
People here are treated fairly regardless of their race (97%)
People here are treated fairly regardless of their gender (97%)
Thank you to our entire OneTrust OneTeam for helping us achieve this certification and continuing our mission of being a more diverse, inclusive, equitable, and trusted organization.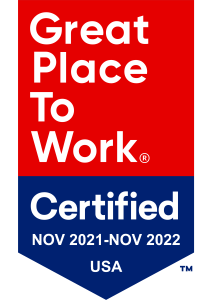 Visit our career site for more information: www.onetrust.com/careers/  
OneTrust's Mission
You're looking for a fresh opportunity to reinvigorate your life, but starting the job hunt can be a terrifying, confusing process. You may find the perfect job opportunity with a job description that's music to your ears, but then comes the ultimate question you need to answer for yourself – would I even be a good culture fit for this company? Let's dive into the careers that OneTrust offers: 
OneTrust unlocks every company's potential to thrive by doing what's good for people and the planet. Using cutting-edge technology and a real-world approach to privacy, GRC, ethics, and ESG, we've created a no-nonsense, industry-leading software platform to help supercharge the global push for trust – the Trust Intelligence Platform. Our mission is to operationalize trust and help other companies make trust their competitive advantage. Our more than 2,500 innovative employees enable us to make waves in the trust industry and perform as a market leader.
OneTrust Career Opportunities
OneTrust is a team of people who are collectively passionate about innovation and technology while supporting career development and growth – We are OneTeam.  Our passion leads us to work hard as a team, roll our sleeves up, and get things done for our more than 13,000 customers. It's a team that truly collaborates with not only their immediate team members but our most senior leaders. We offer rewarding, challenging careers in a diverse and inclusive environment. OneTrust employees receive best-in-class benefits to support a healthy work-life balance and competitive compensation. There are also career paths, development, and trajectory opportunities in multiple departments to help support our employees' personal goals while meeting our organizational goals. We're growing our teams in: 
Professional Services & Support 

 

Marketing

 

Product Management

 

Sales Engineering

 

Legal

 

Human Resources

 

Accounting & Finance

 

General & Administrative

 
Our employees have the flexibility to make an impact from 13 offices across the globe or from home. We're co-headquartered in Atlanta and London. Take a virtual tour of our Atlanta office, and check out all of our locations below: 
Atlanta

 

London

 

Bangalore

 

Melbourne

 

Denver

 

Seattle

 

San Francisco

 

New York City

 

Sao Paulo

 

Munich

 

Paris

 

Hong Kong

 

Bangkok

 

Calgary
Search for jobs: https://www.onetrust.com/careers/all-jobs/  
We are hungry and humble and always willing to get the job done. To thrive at OneTrust, our employees are flexible and comfortable working within an ever-evolving industry. Often times, we get to be the ones to build processes from the ground up and refine best practices. 
Game-Changing Benefits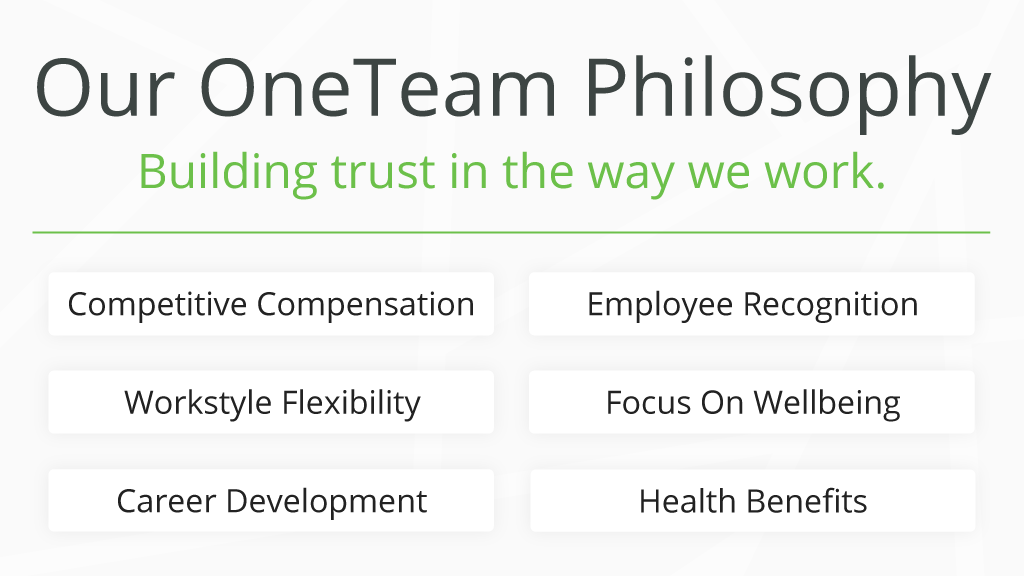 Because we want the best for our employees, we are continuously making an effort to invest in them and their families. Our employee rewards philosophy spans mental, physical, and emotional well-being because we want our people to succeed both in and out of the office. These are just some of the benefits OneTrust employees have access to as a part of our OneTeam Total Rewards Program: 
Unlimited PTO globally

 

Up to 100% company-paid healthcare premiums 

 

Remote, in-office, and hybrid workstyle flexibility

 

Annual bonus program

 

Equity eligibility

 

Retirement contributions

 

ClassPass subscriptions

 

Parental leave

 

Company-paid holidays (including your birthday!)

 

And more

 
Diversity, Equity & Inclusion at OneTrust
We understand the significance our employees' voices can have in the community both in and outside of work. In 2020, OneTrust CEO Kabir Barday committed to infusing diversity, equity, and inclusion intro our company's DNA. That's why OneTrust has an internal Diversity, Equity & Inclusion, or DE&I, program to ensure our employees come from diverse backgrounds and that they feel empowered to share their unique perspectives at work. There are a couple of ways our employees can be actively involved in our DE&I initiatives. 
Employees can participate in our Employee Trust Groups or ETGs. These ETGs are similar to Employee Resource Groups at other companies in that they are voluntary, employee-led groups whose aim is to foster a diverse, inclusive workplace aligned with the organizations they serve.   
Employees can also apply for one of six year-long rotational chairs on the DE&I Council, which was created to uphold our commitment to building globally diverse teams that fuel inclusive and innovative environments. Since its creation, the DE&I Council has: 
Launched a $100,000 Community Diversity Donation Program

 

Implemented Unconscious Bias Training for all employees

 

Established two days of service to empower employees to serve the communities OneTrust operates in

 

Introduced an Internal Bar Raiser Employing Hiring Initiative to remove bias in the hiring process

 

Created 9 Employee Trust Groups (Able, Asian, Black, Families, Latin, Interfaith, Pride, Veterans, Women)

 
By joining the DE&I Council, employees across the globe can influence the priorities and initiatives undertaken by the Council as well as drive positive change from within the organization, and influence strategies that will shape the future of the company. Participation is also a great way to network across departments, strengthen your internal brand, and work alongside our executives as we define a critical component of our cultural identity. Read what some of our inaugural members had to say about their experience on the first rotational council. 
The Story of OneTrust
Six years ago, OneTrust was founded. The need for privacy management technology became apparent as the GDPR became law with other regulations sure to follow. We created software to help our customers manage their privacy programs which led to bigger trust and transparency goals OneTrust needed to help them achieve. Building trust brings together privacy, security, data governance, third-party risk, GRC, ethics and compliance, and ESG into one operational workflow. 
Since 2016, OneTrust has helped the world's organizations – big and small – become more trusted.  We've been fortunate enough to accomplish more than we could've imagined at the onset. We achieved unicorn status in 2019, and we're currently valued at $5.3 billion. Our rapid growth of new employees and the development of our more tenured teams have led to expanded products and services.  
Hear from some of the employees who have been with us from the beginning.  
Building a Great Workplace Together
Don't just hear how great working at OneTrust is from us! We've received numerous awards and recognition over the last year highlighting what makes the OneTeam workplace so special.
Recent awards recognition:
Additional Resources
Whether today is the first day you have heard of OneTrust and are excited to apply or you're preparing for your first interview, take a look at the resources below to learn more about who we are, what we do, and why trust is important. 
Recent Acquisitions: 
Ready to apply? www.onetrust.com/careers/ 
Follow us @LifeatOneTrust on Instagram to see more stories about our people. And follow OneTrust on LinkedIn, Twitter, or YouTube for more information about career opportunities.
Tags: